9/16/22: USA Today's Vince Z. Mercogliano has issued an update on the Lundkvist situation, relaying the message from Lundkvist's agent, Claude Lemieux, that the Swedish blueliner would not be reporting for training camp. Lemieux likely believes that the best way for his client to get the trade he requested is by sitting out for training camp, and only time will tell if he is correct.
For the Rangers, they will have to operate without Lundkvist in their plans for their defense in training camp. Five Rangers defensemen are locks to make the roster, so with Lundkvist seemingly out of the equation, it looks as though the competition for the final two spots on the Rangers' defense will be between Libor Hajek, Zac Jones, and Jarred Tinordi, barring the acquisition of another defenseman.
9/1/22: A top New York Rangers prospect could be on the move relatively soon. The New York Post's Larry Brooks has reported that the Rangers are "engaged in an accelerated effort" to trade 2018 first-round pick Nils Lundkvist. Citing "multiple sources," Brooks adds that Lundkvist is "unlikely to report" for Rangers training camp if the team cannot find a trade by the time camp is set to begin.
Lundkvist, 22, was one of the Rangers' three first-round picks from the 2018 draft. If this news seems familiar, it's because it's generally similar to 2018 ninth-overall pick Vitali Kravtsov's saga with the Rangers' front office in the past. Kravtsov requested a trade from the Rangers last year, and spent a season in the KHL rather than continue his development in the AHL, in part because of the challenge of landing a scoring-line role in New York. This situation might also feel familiar for fans who remember 2017 first-round pick Lias Andersson and his strained relationship with the Rangers, who ultimately dealt him to the Los Angeles Kings.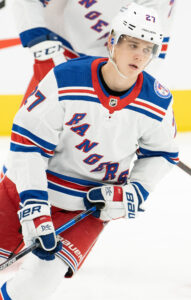 But Lundkvist's situation is different from Kravtsov's and Andersson's for one main reason: there is no of animosity between the player and the organization, something that cannot be said about the sagas of the latter two players. As Brooks puts it, "Lundkvist has no issues with management" but he views the Rangers' current roster makeup as an "unyielding roadblock" to his ability to establish himself in the NHL.
This means that Lundkvist's desire for a change of scenery is not about any sort of friction between him and the Rangers, and instead about the Rangers' current roster makeup. Brooks reports that Lundkvist prefers to head to a destination that offers a "better opportunity" for the defenseman to "compete for a top-four spot and role as a power-play quarterback."
If that's the role Lundkvist sees himself ready for, it's understandable for him to feel locked out of those roles in New York. The Rangers' top-four on defense is established, with Adam Fox, Ryan Lindgren, new captain Jacob Trouba, and K'Andre Miller all but set in stone in those roles. Additionally, the Rangers are extremely reliant on their highly-effective first power play unit, and Lundkvist wouldn't be challenging for Fox's job as that unit's quarterback any time soon.
So, from a depth chart perspective, the motivation for Lundkvist to move teams is certainly understandable. For the Rangers, there is less reason for them to want to move Lundkvist outside of wanting to accommodate the player's wishes. The Rangers are hard-pressed against the cap and figure to be in that position for the foreseeable future, so having cheap young talent like Lundkvist on their roster is important to keeping New York competitive as their veteran players become cap casualties.
Per Brooks, GM Chris Drury's "target" in trade talks over Lundkvist is to acquire a "young, top-nine center who might grow with the organization." While no specific teams that are potentially interested in Lundkvist were mentioned in the reporting, a few possibilities emerge when looking over the depth charts of other NHL clubs.
The Detroit Red Wings, for example, have a potential opening on the left side of their defense if they don't want to use Jordan Oesterle as an everyday third-pairing defenseman. Lundkvist could potentially be a fit there playing next to his countryman, Gustav Lindstrom. He could even compete for a chance to play next to Calder Trophy winner Moritz Seider as well. Lundkvist is, of course, a right-shot defenseman but if he wants to prioritize the best fit possible on a new team he might need to be flexible with where exactly in a lineup he plays.
One other factor making Detroit an intriguing potential trade partner is the fact that the Red Wings also have a young centerman who could fit the Rangers' desired return: Joe Veleno. Veleno might not have a regular role down the middle in Detroit next season, given the emergence of Michael Rasmussen and the addition of Andrew Copp. Could a swap of the two 2018 first-rounders make sense for both teams?
That's just one possibility for the Rangers and Lundkvist, and there will certainly be more options. While Lundkvist hasn't been exceptional in North America, that's exactly what he was in his native Sweden when he played for Lulea in the SHL. This is a bit of an unexpected storyline to have emerged, but it's something to watch as we get closer to the opening of training camps.
Photos courtesy of USA Today Sports Images