Nathan MacKinnon isn't going anywhere. The Colorado Avalanche superstar has signed an eight-year extension to stay in Denver through the 2030-31 season. The deal will pay MacKinnon an average of $12.6MM per season, meaning he will be the highest-paid player in the league, just eclipsing Connor McDavid's $12.5MM AAV.
The deal, which kicks in for the 2023-24 season, will double his current cap hit of $6.3MM, a deal that has become one of the greatest bargains in the entire league. MacKinnon signed the seven-year deal in 2016 when he was still putting up an average of just 50 points per season. Things have certainly changed since then, with three appearances as a Hart Trophy finalist and a Stanley Cup this past spring.
There are few players in the league that can impact a game as much as the 27-year-old center. MacKinnon's incredibly powerful skating stride can separate him from defenders in an instant, his offensive instincts are among the best in the world, and his shot creation results in plenty of opportunities for himself and his linemates. Since 2017-18, his first true superstar campaign, his 442 points trail only McDavid and Leon Draisaitl, while his points-per-game are behind only McDavid and Nikita Kucherov.
Incredibly, if MacKinnon didn't already have nine seasons of NHL action under his belt, he wouldn't have even reached unrestricted free agency this summer, having only turned 27 at the start of September. That means the extension will span his age 28-35 seasons, and that the Avalanche won't be on the hook for a big number as he enters his late-thirties. While it remains a huge number to carry, it is likely still a bargain for the next couple of seasons while MacKinnon remains an elite player. If the salary cap takes a big jump, it could remain one for the majority of the extension.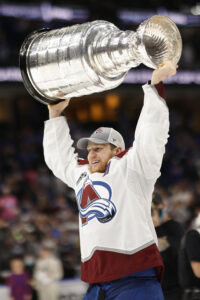 There is no short-changing MacKinnon here though. The superstar will receive $85.34MM of the $100.8MM deal in the form of signing bonuses, and a full no-movement clause will kick in right away and last throughout the entire extension. CapFriendly gives the full details:
2023-24: $775K salary + $15.725MM signing bonus
2024-25: $775K salary + $15.725MM signing bonus
2025-26: $800K salary + $15.25MM signing bonus
2026-27: $9.15MM salary + $3.0MM signing bonus
2027-28: $990K salary + $8.91MM signing bonus
2028-29: $990K salary + $8.91MM signing bonus
2029-30: $990K salary + $8.91MM signing bonus
2030-31: $990K salary + $8.91MM signing bonus
It's a massive commitment from the Avalanche, though one that is very much deserved. Not only is MacKinnon one of the best players in the league but he also has been through the worst the franchise has to offer, when Colorado was putting up historically-bad results. In 2016-17 the team won just 22 games, finishing dead last and more than 20 points behind the next worst. They would go on to lose the draft lottery as well, though that ended up inn their favor, as the fourth-overall pick was Cale Makar.
While the Conn Smythe this year went to Makar it could have easily been MacKinnon to take home the playoff MVP, after leading the postseason with 13 goals in 20 games. For his career, he has performed at an incredibly high level when the games matter most, scoring 41 goals and 93 points in 70 career playoff games.
With this deal, along with extensions already worked out for Makar, Gabriel Landeskog, Valeri Nichushkin, and Artturi Lehkonen, the team's competitive window remains wide open for the foreseeable future. It also likely leaves some money on the table, which will help out when Devon Toews and Mikko Rantanen need extensions down the road (2024 and 2025 respectively).
MacKinnon may end up playing his entire career with Colorado, given how long this new deal extends. His potential free agency is now something Avalanche fans won't have to think about for a very long time.
Photo courtesy of USA Today Sports Images