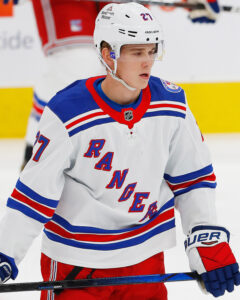 With Rangers prospect Nils Lundkvist's trade request now well-known, efforts continue to find the youngster a new home for the upcoming season.  If the belief that he won't attend training camp in New York holds true, that could be a trigger point for GM Chris Drury to avoid any distractions heading into camp while getting a chance to integrate whichever player or prospect they get for the rearguard at training camp.
With that in mind, here's a look at some of the potential suitors for Lundkvist.  Since he's looking for a team that will have a chance to give him an NHL opportunity in the short-term, the focus will be on those squads although there undoubtedly will be others that will kick the tires.  Los Angeles is a team that has been speculated as a landing spot with their deep prospect pool but they don't really have an opening on the right side of their back end for him to slide into so they don't appear among the teams below.
Detroit: The Red Wings have two right-side rearguards in place in Calder winner Moritz Seider and young veteran Filip Hronek.  There are questions behind those two, however.  Gustav Lindstrom has yet to establish himself as a full-time player while Mark Pysyk will miss the first half of the season after undergoing surgery in July to repair a torn Achilles tendon.  If Lundkvist was to go there and do well, it could free them up to move Hronek who is the type of blueliner that could yield a nice return for the Red Wings.
Detroit has a couple of young centers that the Rangers would likely show some interest in.  One is Joe Veleno who is close to being ready for full-time duty while Jonatan Berggren, who was picked just five spots after Lundkvist in 2018, had a very promising first season in North America in 2021-22.  They also have an extra second-round pick at their disposal if New York ultimately decides that a draft pick is the right return.  Arthur Staple of The Athletic reported a few days ago (subscription link) that at least one team had a second-rounder on the table in an offer for the blueliner.
Montreal: At the moment, the right side of the back end for the Canadiens is David Savard, Justin Barron, and Chris Wideman.  The only established full-time player out of that group is Savard.  Montreal is likely to use several prospects throughout the season (Jordan Harris and Kaiden Guhle among them) but those are left-shot options, not righties like Lundkvist.  It's plausible that Lundkvist could jump into their lineup right away.  Jeff Gorton, who was GM at the time Lundkvist was drafted, now works in Montreal's front office.
While the Rangers wouldn't be likely to get a return that could help them right away, Montreal's prospect pool is one of the deeper ones around the league with recent center picks like Jan Mysak, Owen Beck, and Riley Kidney potentially being of interest.  They could also deal from the left side of their defensive pool if New York would prefer a defenseman in return with Harris, Mattias Norlinder, and prospect Jayden Struble being possible options.
San Jose: The only established must-play right-shot defender on their roster is Erik Karlsson.  Matthew Benning got a four-year deal but could bounce in and out of the lineup while Ryan Merkley could stand to spend more time in the minors before becoming an everyday regular.  With Brent Burns not really being replaced after his trade to Carolina, there's a definite need for a second defenseman to help shoulder the offensive load.  Worth noting, one of New York's former top scouts, Chris Morehouse, is now heading up San Jose's amateur scouting ranks.  He wasn't there when Lundkvist was drafted but he'll have some extra familiarity with the blueliner.
Center Thomas Bordeleau didn't look out of place in his brief NHL stint late last season and acquitted himself well at the World Championship as well and is the type of young center that might entice the Rangers.  Merkley himself could be an option if Drury decides to look for a similar player, one that will be more amenable to being in the minors to start the season.  The Sharks don't have an extra second-round pick but the one that they do have projects to be a good one based on the state of their roster heading into training camp.
Seattle: While the addition of Justin Schultz lessens their need for an extra offensive defenseman, the third RD spot is far from secure with William Borgen spending a lot of time as a healthy scratch last season.  That's a spot that Lundkvist could conceivably battle for or least position himself to be the first one recalled.
The Kraken don't have the deepest of prospect pools to work with since they've only been around for two drafts but they do have three second-rounders for the 2023 draft.  Parting with one for a potentially near-ready young defenseman would be a defensible move for the second-year squad.
Vancouver: The Canucks have been busy this summer when it comes to their forward group but nothing has been done with their back end yet and it's not for a lack of trying.  Vancouver already has an offensive weapon in Quinn Hughes but someone like Lundkvist could potentially help run a second power play group and perhaps take some minutes from veteran Oliver Ekman-Larsson who is getting near the point where he will need to be managed more carefully.  With Tucker Poolman's availability uncertain for training camp, there's a spot on the right side of their back end up for grabs.
As for possible trade options, Linus Karlsson is coming off a strong SHL season and shouldn't be too far away from being NHL-ready which would give New York another option down the middle.  Alternatively, winger Nils Hoglander is someone that, on the surface, might be on the fringes of making Vancouver's roster with their additions on the wing.  Perhaps there's a trade to be made featuring those two?
Of course, this isn't an exhaustive list and other teams will inquire but if Lundkvist and agent Claude Lemieux's intention is to have him start the upcoming season in the NHL, that does limit the number of viable opportunities for a trade if the Rangers decide to move him before training camp.
They don't have to move Lundkvist, however.  He's still waiver-exempt and even if he doesn't want to report to the minors, they can send him there and suspend him for not reporting.  If it's going to be more of a drawn-out process, a loan overseas (as they did last year with Vitali Kravtsov) is also on the table.  There are certainly non-trade options they'll want to consider but if they do decide to go ahead with a trade, they'll have some viable teams to consider.
Photo courtesy of USA Today Sports Images.