July 11: The Predators have now officially announced the contract, with Poile releasing the following statement:
We are very pleased to announce Filip's signing today. As one of the best offensive players in our history, we are thrilled to have Filip as a part of our team for the next eight seasons. His talent, competitiveness and leadership are critical to our future as we continue to strive for our goal of winning a Stanley Cup. We believe that Filip, like Pekka Rinne before him and like our captain, Roman Josi, is doing now, will write a legacy with the Predators that fans will remember forever. Additionally, we'd like to wish Filip and his fiancée Erin all the best as they get married later this month. We appreciate having them both in our SMASHVILLE family for the next eight years. 
July 9: Filip Forsberg isn't leaving Nashville anytime soon as the team announced (Twitter link) that they've agreed to an eight-year contract with the winger.  While financial terms weren't officially disclosed, 104.5 The Zone's Dawn Davenport was the first to report (Twitter link) that the deal is worth around $70MM; Daily Faceoff's Frank Seravalli confirms (via Twitter) that the deal carries an $8.5MM AAV which is worth a total of $68MM.
TSN's Pierre LeBrun reported Sunday morning on the financial structure of the Forsberg deal. It is as follows:
2022-23: $10MM
2023-24: $10MM
2024-25: $10MM
2025-26: $10MM
2026-27: $4.5MM base salary, $3MM signing bonus
2027-28: $4MM base salary, $3MM signing bonus
2028-29: $4MM base salary, $3MM signing bonus
2029-30: $3.5MM base salary, $3MM signing bonus
Interestingly, the deal does, in fact, come with some protection against movement. Per LeBrun, the deal has a full no-movement clause throughout, and a modified no-trade clause for the final two seasons of the contract.
The 27-year-old has spent parts of the last ten seasons with the Predators after they acquired him at the trade deadline from Washington in 2013 in exchange for Martin Erat and Michael Latta in a trade that worked out a whole lot better for Nashville than it did for the Capitals.  Since then, Forsberg has become a consistent scorer for the Preds and has been a key cog on their top line for several years.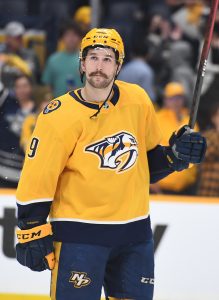 While Forsberg has been pretty steady in the goal-scoring department having notched at least 20 goals in each of his first six seasons (and produced at a 20-plus-goal pace in 2020-21), he found a new gear this past season, scoring 42 goals while chipping in with 42 assists, both career highs by a considerable margin.  That was good enough to finish third on the Predators in points behind Roman Josi and Matt Duchene with their goal output – which ranked 12th in the league – helping to propel them to the postseason with the team only being in the middle of the pack in goals allowed.
The timing for that jump in production couldn't have been better for Forsberg as it placed him as one of the top free agents of this year's class, giving him plenty of leverage in contract talks.  That has allowed him to earn a $2.5MM raise from his previous contract and plenty of job security since he'll be signed through the 2029-30 season.  It will be interesting to see if he was able to get any form of trade protection in the contract as that's something that GM David Poile has historically been extremely hesitant to hand out over the years.
Nashville is clearly looking to remain in the playoff picture after adding Ryan McDonagh earlier this offseason and keeping Forsberg in the fold will certainly help their chances of reaching the postseason again.  They have a little over $9MM left in cap space per CapFriendly with RFA winger Yakov Trenin the most notable still to be signed so it's possible that the Predators could look to add another impact player this summer if they intend to spend close to the $82.5MM salary cap.
Photo courtesy of USA Today Sports Images.