Topics in this edition of the mailbag include Toronto's goaltending situation, discussion on whether or not Detroit should have another move in them this summer, early offseason winners, and more.  If your question doesn't appear here, watch for it in next weekend's mailbag.
lapcheung39: If the Murray/Samsonov experiment fails, do you see the Leafs trading for a goalie who is capable to handle the load?
I don't see that happening.  To this point, GM Kyle Dubas has shown an inability or an unwillingness to commit to any long-term goaltending solution.  There are no real trade options that meet all of the following criteria – a clear and proven upgrade on both netminders, affordable on the cap, being on a team that's likely to sell at the trade deadline, and on a short-term contract (since they want to keep flexibility for when the contracts for their core forwards expire).  Unless one of those somehow becomes available, Toronto won't really have an opportunity to upgrade during the season.
I'm not as down on Toronto's goaltending moves as some are.  Knowing the need for affordability and flexibility, their options were going to be limited.  While there's certainly a risk of this blowing up, there is definitely an upside play as well.  If one of Matt Murray or Ilya Samsonov shows that he can live up to the promise of just a couple of years ago, the Maple Leafs will have a good goalie on their hands.  Good isn't great but considering the limited amount they're able to commit to the position, good will have to be good enough.
gowings2008: Yzerman obviously added some nice pieces to the Red Wings in the past couple of weeks, but they still lack that true star up front. I think Raymond could develop into that, but is there a chance they maybe trade for that type of player? Maybe a Barzal or Tkachuk, for example, as they both fit the core age group.
Johnny Z: I still see at least one more move this summer for Stevie Y. Would it be taking on a bad contract with a huge sweetener, or signing one of the 2 top FA's left and then clearing out someone in that roster spot, or bidding for a Matthew Tkachuk or a Chychrun…What say, you oh Swami?
What's the old saying, you have to learn to crawl before you can walk and walk before you can run?  That's what comes to mind when I think of Detroit.  Their offseason signings thus far look like GM Steve Yzerman saying the time has come to try to get back to a playoff spot and get their young core some postseason experience.  Their rebuild has been a crawl (a long crawl, at that) and getting to the playoffs is the learning to walk part.  It's hard to skip that stage and go right to running (becoming a year-in, year-out contender).
Could they trade for that player?  Absolutely.  Will that trade come this summer?  I'd be surprised if it did.  If I'm Yzerman, I want to see how their young core handles their first taste of a playoff push and perhaps a series or two to help determine what type of star player they need.  It's hard to make that determination now.
If they want to get in on the bidding for the top free agents, that's another thing.  (I still could see John Klingberg fitting there, even with Moritz Seider and Filip Hronek.)  If you can get a core piece for free without having to trade for it, that's great.  But I don't think the time is right for them to make the type of franchise-altering splash on the trade front.  And if they want to take on a pricey expiring contract with a sweetener, that wouldn't be the worst outcome either as long as they keep enough cap space to build enough in-season room to add at the trade deadline.
W H Twittle: What realistic options do the Jets have with Pierre-Luc Dubois? Should they offer 8M$×7 or something similar to see whether it really is "Habs or nothing" for Dubois? Or should they focus on trading him? And which teams could be interested in Dubois for possibly only two years?
I've been intrigued with the Dubois situation and the fact he accepted his qualifying offer at $6MM is curious.  If that was the plan all along, he could have just filed for arbitration and likely got more money.  Was not filing a leverage play that went wrong?  If Dubois hopes this route helps facilitate a trade to Montreal, I'm not sure it does.  All things equal, the Canadiens probably would have preferred a long-term deal that had two RFA years in it to knock a few hundred thousand off the AAV of a max-term agreement instead of one which is the best they (or any other team) can do now.
I think it also needs to be noted that there's an important word missing from the various leaks saying Dubois wants to play in Montreal.  The word that's missing is 'only'.  At no point has it been definitively been said that he only wants to play in Montreal.  Is that his preference?  It sure seems like it.  But it's not a Montreal or bust scenario.  At least, that's not what his camp is indicating.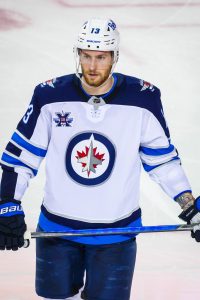 What does appear to be clear is that his long-term future isn't with the Jets.  That means the options are to trade him now, trade him midseason, or trade him next summer.  Dubois accepting the qualifying offer makes the second option much more plausible.  If they try to move him at the deadline, there's a lot less salary remaining for a team to take on plus the potential for retention is higher (unless Winnipeg is in the thick of the playoff hunt in which case trading him next summer becomes the likely scenario).  A trade deadline move would have several contenders interested and ready to pay a sizable return.  Even if a long-term agreement isn't guaranteed, two playoff runs and a chance to try to extend him is still worth quite a bit.  They're still in good shape to get a good return.
The trade deadline scenario makes it hard to peg teams as we don't know who all will be in the mix yet and, more importantly, who will have cap space to do it.  But if you want a wild card team for a trade this summer?  I'd say Colorado.  If Nazem Kadri doesn't re-sign, could the Avs flip someone like Samuel Girard (a young top-four blueliner signed for five more years) and J.T. Compher to get a two-year improvement down the middle and potentially even an insurance policy if they can't get Nathan MacKinnon signed for some reason?  (That's not a precise trade proposal, by the way, just a general thought.)  I could see that being a Plan B for them or any other team that wants but doesn't get Kadri.
JustPete: The new Ducks GM recently said that he's not done and that they are looking to add a forward and a defenseman. The Ducks are also below the minimum cap level. It sounds to me that he is looking to pick off some solid players from teams that are over the cap and must shed some contracts. If true, who are the most logical teams/players in your view? Thanks.
Their lack of activity this summer tells me they're not looking to win now.  That makes them a prime candidate for this type of move although they'd be looking for future assets, not necessarily solid players.  In other words, they'll take on an overpriced expiring or short-term contract if they're properly incentivized; they don't have to be looking for impact players at this point.  That gives them a lot of options right now.
Off the top of my head, Patric Hornqvist (Florida), Tanner Pearson and Jason Dickinson (Vancouver), Jason Zucker (Pittsburgh), Warren Foegele (Edmonton), Scandella (St. Louis), and Jonathan Drouin (Montreal) stand out as options as players that are on short-term deals (one or two years each) and could provide some utility to them while they'd still likely be able to pick up a future asset or two.  A player or two off that shortlist could be possibilities.
There's also the ability to facilitate a Kadri or Klingberg signing or a trade if a team needs to free up money.  Those are harder to peg down in terms of which contract(s) could go but there should be an opportunity to get involved on that front as well.
big boi: Do you see the Habs trying to move Price and Gallagher's contracts in the near future? If so, how?
Carey Price is coming off a season that saw him play in five games, several of which he didn't play all that well in.  He then admitted that if his knee doesn't get any better, he doesn't see how he could play again.  That's not the profile of a goaltender that has any trade value before factoring in that he's the highest-paid goalie in NHL history and has four years left on his contract.  I simply don't see a team wanting to offer anything for him, even those who are trying to get creative with LTIR space.  And while the Canadiens likely need to trim money, they're not going to part with multiple high picks and prospects to move Price at a time when they're firmly in a rebuild.  Nothing happens trade-wise on his front for a while, if it ever happens at all.
As for Brendan Gallagher, what's the market for a player coming off a seven-goal season?  Not very good.  Then you add in the five years left on his contract at $6.5MM per.  That changes his market value from not very good to non-existent.  Similar to Price, it's a contract that would require retention and/or future assets to move.  They shouldn't be doing that with where they are in the rebuilding process.
There are easier contracts to move.  They have several veterans on expiring contracts that could be flipped for someone making a little less to free up cap flexibility or they could look to move someone like Drouin, Joel Armia, or Mike Hoffman, either taking a cheaper player back or with a smaller incentive than it'd take to get out of Price and Gallagher's contracts.  Those are much more plausible moves for Montreal to make.
@Banksy56: Team that's had the best offseason so far?
Right now, strictly looking at the on-ice situation, I'd say Ottawa.  Alex DeBrincat is a legitimate top-line winger that immediately bolsters their top line.  Claude Giroux is on the downswing of his career and the third year of his deal might be a bit iffy but he's not too far removed from being a top-line player himself.  The Sens don't need him to be that, however; instead, he can help anchor a second line.  Their returning players now allow them to run three solid scoring lines.
On top of that, they got Joshua Norris locked up on a max-term contract and some more stability between the pipes with Cam Talbot replacing Murray.  And after all of that, they still have enough cap room to try to upgrade the back end.  They've had cap space for a long time and they're using it to their advantage now.  This team is much-improved and should have a good chance of pushing for a playoff spot which is huge for their young core from a development perspective.  I'm intrigued to see how this all works long-term (DeBrincat needs a pricey deal this summer as does Tim Stutzle) but they've had a very good last few weeks.
Columbus is another team that comes to mind by landing Johnny Gaudreau and being able to get a four-year deal done with Patrik Laine.  That's two star players locked up for the next four years to go with their young core.  But losing Oliver Bjorkstrand for a middling return stings, especially since it's in part due to the terrible contract given to Erik Gudbranson.  That's enough to take them out of the top spot for the best offseason in my books.
MoneyBallJustWorks: Where does P.K. Subban end up and with what type of deal?
At the beginning of free agency, I thought Toronto was where he'd land on a one-year deal around $2MM or so where he could slot into the vacancy opened up by the departure of Ilya Lyubushkin.  They don't look like as good of a fit now with them opting for cheaper depth defenders in Victor Mete and Jordie Benn and likely having to move out a veteran simply to re-sign RFA Rasmus Sandin.  So, let's take them off the table for now.
Anaheim is a team that needs to add money and they have openings to fill on their back end.  As far as a soft landing goes, a possible top-four role in California looks like a pretty good one.  If Edmonton moves Tyson Barrie to free up cap space, Subban could fit as a lower-cost replacement.  But I like Anaheim right now on a one-year deal in the $1.5MM or so range with an eye on flipping him at the trade deadline if they're out of the playoff picture.
Photo courtesy of USA Today Sports Images.