July 6: White has cleared waivers, meaning the Senators can now exercise the buyout.
July 5: The Ottawa Senators have placed Colin White on unconditional waivers for the purpose of a buyout, ending his time with the team. Because White is still just 25, the Senators will be on the hook for just one-third of the salary remaining on his contract. It will result in the following cap charges:
2022-23: $875K
2023-24: $875K
2024-25: $-$625K*
2025-26: $875K
2026-27: $875K
2027-28: $875K
*Because of the way the contract is structured, the team will actually receive a cap credit in the 2024-25 season.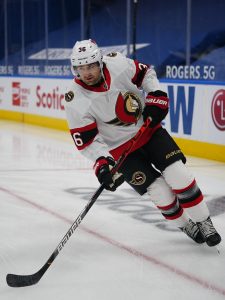 White had three years remaining on the six-year, $28.5MM deal he signed in 2019 after his first full season in the NHL. When he scored 41 points that year, it appeared as though he was going to be a long-term option in the top-six, potentially even as a future first-line center for the team. Things were never the same after that, with just 51 points in the 130 games since, and plenty of time on injured reserve.
Once the buyout goes through tomorrow, the 2015 first-round pick will sit with more than 220 games of NHL experience and no team, meaning he could be a nice buy-low candidate for a contender looking to add skill around the margins. White has put up strong possession numbers his entire career, though that usually hasn't resulted in actual offensive success. He also has almost no playoff experience, playing in just one postseason game during the team's 2017 run.
For the Senators, who operate on an internal budget, a move like this represents savings of $10.5MM in actual salary. The cap change isn't really all that meaningful for this year, though the Senators could very well be pushing up close to the cap ceiling in the next few years if players like Alex Formenton, Joshua Norris, and Tim Stutzle all sign long-term deals as restricted free agents.
Clearing White's money off the books not only allows the team to spend more on their other young forwards but also opens up a roster spot for some of their prospects to battle over. It had become very clear that White had played his way out of the team's long-term plans, meaning a split now was the obvious choice. Had they waited until next year, when he will be 26, they would have had to pay two-thirds of the remaining salary instead.
Photo courtesy of USA Today Sports Images