It was a big shock for Jonathan Huberdeau, when he found out that he had been traded to the Calgary Flames after only knowing one organization through his first ten years in the league. The 29-year-old is heading into his final year under contract and could get his chance to go anywhere he wants, should he decide Calgary isn't for him. But yesterday, when meeting with the media, Huberdeau explained that he is certainly open to the idea of an extension:
I'm open to staying in Calgary for a long time…I leave it to the GM and my agent, and they already started talking about it. We'll see what's going to happen.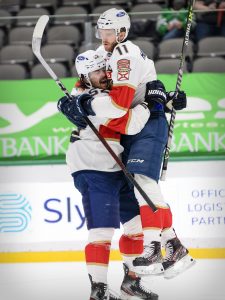 He wasn't the only one to express a willingness to extend. MacKenzie Weegar, the other big piece in the deal that sent Matthew Tkachuk to the Florida Panthers, is also heading into his final year under contract. He told the media that he is "very open" to signing a long-term deal, and explained his excitement about getting started with his new team.
The worry for many Flames fans when they saw the return was whether these two players would be around more than a few months, given their contract situations. After watching Johnny Gaudreau leave in free agency without getting anything in return, the Flames won't be able to do the same with Huberdeau and Weegar. If they aren't going to re-sign, flipping them somewhere else before the end of the season will be critical.
Of course, extensions won't come cheap. Huberdeau has been one of the top playmakers in the league for years now and is coming off a 115-point season. That's the same total as Gaudreau, who landed a seven-year, $68.25MM deal on the open market this year. The two are essentially the same age, though Huberdeau will be reaching unrestricted free agency a year later thanks to the six-year, $35.4MM contract he signed in 2016. That has been one of the best bargains in the league for a while now, as he has posted four straight years of better than point-per-game production.
Weegar too, while not quite at the same level as his teammate, will be a sought-after commodity should he hit the open market. The 28-year-old has worked his way up from the seventh round in 2013 to become a true top-pairing defenseman, even if there are a few frustrating moments where his high-risk play backfires. This season, he recorded 44 points in 80 games, logged more than 23 minutes a night, and added 179 hits (and 156 blocks). He can be used in all situations, is right-handed, and won't turn 29 until January.
The worry now for Calgary, even if they are both willing to sign extensions, will be whether it is actually worth it. The team would be buying out exclusively UFA years for both, likely agreeing to contracts that take them well into their mid-thirties at huge price points. The team has plenty of cap space after the exits of Gaudreau and Tkachuk–more than $36MM projected for 2023-24–but could be locking themselves into a pair of declining assets, depending on what the deals look like.
So it is good to hear that both players are open to extensions but for Calgary fans, it is still an anxious time, not knowing what kind of deals might be on the horizon.
More to come…