At his end-of-season press availability, after the Winnipeg Jets ultimately missed the playoffs, Mark Scheifele raised some eyebrows around the league. The veteran forward explained that he wanted to know where the team was headed and that he would take some time to talk to his family and agent this summer. While the idea of a trade request was quickly rebuffed, some still wondered whether the Jets would explore a move this offseason, given the fact that Scheifele has just two years left on his deal.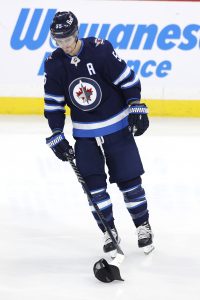 Not so, according to general manager Kevin Cheveldayoff, who told Mike Zeisberger of NHL.com this week that he expects Scheifele to be back on the roster in 2022-23. The Jets executive explained that the end of the season was an "emotional time" for the whole group after failing to reach the postseason and that his exit interview with Scheifele went well.
Eventually, Cheveldayoff will have to decide what the next path forward is for the Jets and whether Scheifele is part of it. He, captain Blake Wheeler and netminder Connor Hellebuyck are all scheduled for unrestricted free agency in the summer of 2024, potentially meaning this upcoming season is a make-or-break opportunity. The team doesn't have very many long-term commitments and could quickly shift to a rebuild if things aren't going well, though that would be a disappointing result for a group that many believed could contend for the Central Division crown this year.
Scheifele himself experienced another strong offensive season but critics will continue to point to a poor defensive effort as a big reason why the Jets struggle in the first place. Despite putting up 29 goals and 70 points in 67 games, Winnipeg was still outscored 78-69 at even strength with Scheifele on the ice and had an even worse expected-goal rate.
Still, 30-goal centers are extremely difficult to come by and usually command a price tag much higher than the $6.125MM cap hit that Scheifele will carry through the 2023-24 season. If the team were to make him available, there would certainly be interest even despite any defensive issues.
For now, it appears as though the big forward will be back in Winnipeg when the year begins. Under what coach and for how long remains to be seen.
Photo courtesy of USA Today Sports Images