9:02 AM: The Flyers have officially announced the hiring of Tortorella, but did not confirm the financial terms. The Athletic's Arthur Staple reports that the finalists for the job were Peter DeBoer and former New York Islanders head coach Jack Capuano.
4:25 PM: ESPN's Kevin Weekes reports that Tortorella's deal with the Flyers is a four-year, $4MM per year contract.
3:21 PM: After days of it seeming like an eventuality, John Tortorella is expected to officially be named the next head coach of the Philadelphia Flyers. The Athletic's Charlie O'Connor reported this morning that final negotiations were underway and that an official announcement could come tomorrow, but The Fourth Period's Anthony Di Marco now reports that an official announcement could come as soon as tonight and that the organization is "moving forward" with Tortorella as their new head coach.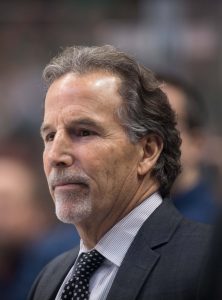 We've gotten an unusually extensive amount of reporting on the Tortorella hiring process. It's been known for a few days now that the team had zeroed in on Tortorella as a candidate and that the hiring was likely, but negotiations between the two sides had not been completed. Now, it seems like that process is done, although it's unclear whether the terms of the deal will be made public.
Tortorella joins his fifth NHL team as a head coach and his fourth Eastern Conference team, with his one season spent in Vancouver as his lone Western Conference head coaching experience (2013-14). He ranks 13th all-time in games coached (1,383), 14th in wins (673), and has a 2004 Stanley Cup ring with the Tampa Bay Lightning to show for his illustrious career.
After his second gap year in the past decade, Tortorella returns to the NHL with the goal of quickly restoring a competitive team in Philadelphia. Whether that happens is a different story entirely. Of note, in his first entire season as coach of the Columbus Blue Jackets in 2016-17, he took a team that had finished below the .500 mark the previous year to their only 100-point season in franchise history. However, that was a team spearheaded by a list of quality young players, most notably Zach Werenski and Seth Jones on defense, that the Flyers simply don't have to offer. Nor do they have a goalie with the track record that Sergei Bobrovsky had at that point, who earned his second Vezina trophy that season with a .931 save percentage and 41-17-5 record.
While a healthy Sean Couturier and Ryan Ellis should give the Flyers a large boost next season, Tortorella will be tasked with the job of helping the team navigate their post-Claude Giroux era. He'll be charged with restoring the ceilings of players like Travis Konecny and Oskar Lindblom up front and continuing the positive development of Joel Farabee. He'll also need to institute a system that can help Ivan Provorov and Rasmus Ristolainen on the back end after some rough defensive seasons.
None of it will be an easy job in the Metropolitan Division. With the New York Rangers and Carolina Hurricanes poised to dominate again next season, they'll also have the Blue Jackets and New Jersey Devils as on-the-rise teams to battle with.