With the offseason in full swing aside from the two teams in the Stanley Cup Final, it's time to examine what each squad will need to accomplish over the coming months. Next up is a look at the Toronto Maple Leafs.
Another year, another first-round exit for the Maple Leafs, who were kicked out of the postseason by the defending champs. Sure, you could argue that they were closer to defeating the Lightning than either of the other two teams in the east that had the unfortunate task of trying to snap Tampa Bay's streak but it doesn't really matter at this point. The simple fact is that Toronto hasn't won a playoff series in nearly two decades and all efforts this summer will be made to change that.
Figure Out The Goaltending
Right now, the Maple Leafs have three goaltenders under contract for next season. Petr Mrazek, Erik Kallgren, and Joseph Woll. That's not exactly what someone would call championship depth in net. Mrazek is signed for two more years at $3.8MM and did not impress in his first go-round with the team, leading some to believe they'll find a way to get rid of his contract this summer.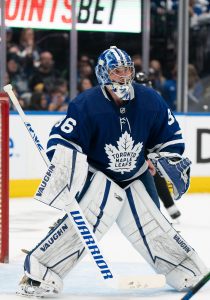 But the big question mark is Jack Campbell, who did an admirable job during his relatively short time in Toronto but may have priced himself out of their range. If the 30-year-old is looking to cash in on his first real chance at a lucrative multi-year contract, it's hard to see how it will be with the Maple Leafs, unless they can find a way to clear up some other room. Even if they did move Mrazek's money out and bring back Campbell, is the Kallgren-Woll duo enough depth behind him?
Add Youth To The Bottom-Six
With Ilya Mikheyev and Colin Blackwell both unrestricted free agents, Pierre Engvall and Ondrej Kase restricted free agents (who are both trade or even potentially non-tender candidates, because of the threat of arbitration), and Jason Spezza now in the front office, it could be a very different look at the bottom of the Maple Leafs' lineup next season.
Deciding how many spots the team will leave open for competition among the younger players in the organization is a huge decision and one that could drastically backfire if they aren't able to make the jump to the NHL full-time. Nick Robertson (20), Alex Steeves (22), Curtis Douglas (22), Nick Abruzzese (23), Pontus Holmberg (23), Joey Anderson (24), and others are potential options there, though they each come with very different skillsets.
With the cap squeeze coming in other areas, the team desperately needs some of these entry-level contracts (or minimum deals in Anderson's case) to start paying off upfront.
Solve The Sandin Problem
When the Maple Leafs re-signed Mark Giordano to a hometown discount quickly after the season ended, the question immediately emerged: where is Rasmus Sandin going to play? The team now has Giordano, Morgan Rielly, and Jake Muzzin all entrenched on the left, while Sandin has struggled in his short time trying to play his off-side.
The 22-year-old is a restricted free agent for the first time and will need a new contract, but also some clarity on where exactly he fits into the picture for next season. Many fans have suggested a Muzzin trade to clear room for the younger Sandin but the veteran holds a full no-trade clause until next summer, so there would be complications even if the team did decide they wanted to move on–which isn't clear anyway.
Given that they also have question marks on the right side with Justin Holl's up-and-down season and Timothy Liljegren's inexperience, how the Maple Leafs' defense pairings shake out is a complete unknown at this point.
Find A Second-Line Left Winger
It may seem like a non-issue for a team that had no trouble scoring goals this season but the second-line duo of John Tavares and William Nylander often struggled to find chemistry with a rotating cast of left-wingers (and each other at times). With Mikheyev, perhaps the most natural fit there, likely moving on due to his open market price tag–Chris Johnston of TSN noted that the Russian UFA is looking for somewhere between $4-5MM on a per-year basis–it's hard to see who will step into that void from the internal options.
Alexander Kerfoot has at times found success in the top-six but is really more of a third-line option, while a young skilled player like Robertson may not yet be ready. A free agent signing could be in the cards if the team can find some extra cash.
One thing that may play into the decision, however, is the emergence and development of prospect Matthew Knies. The second-rounder exploded this season with the University of Minnesota and played at the Olympics for Team USA. Knies is headed back to school for 2022-23 but could be an option for the Maple Leafs' top-six as early as next spring, meaning any multi-year free agent move could create a logjam moving forward.
Photo courtesy of USA Today Sports Images