With the offseason in full swing aside from the two teams in the Stanley Cup Final, it's time to examine what each squad will need to accomplish over the coming months.  Next up is a look at the Bruins.
It wasn't a particularly eventful season for Boston who once again was one of the stronger teams in the Atlantic Division and while they wound up in a Wild Card spot, they were safely in a playoff spot early on.  However, they weren't able to get past Carolina in the first round and since then, it has been a busy few weeks for the Bruins.  GM Don Sweeney will have a lot of work to do over the coming weeks, assuming a new contract gets worked out between now and then.
Hire A New Coach
It was a move that came as a surprise to some but Sweeney and team president Cam Neely opted to make a change behind the bench, dismissing Bruce Cassidy earlier this month.  This, despite the team going 245-108-46 under his watch during the regular season.  The playoff success hasn't been there, however, with the team playing a game below .500 which likely played a significant role in the decision to make a change.  Cassidy wasn't out of a job for long and now has a long-term deal to coach in Vegas.
This feels like a crossroads situation for the Bruins and, for the time being, at least, Boston isn't being linked to many of the veterans that have been around the block with quite a few teams over the years.  Their current crop of known candidates consists primarily of first-time options (Seattle assistant Jay Leach, Toronto assistant Spencer Carbery, and Pittsburgh assistant Mike Vellucci) or one-time NHL bench bosses (David Quinn, St. Louis assistant Jim Montgomery, and Boston assistant Joe Sacco).
Turning to that type of coach could signal an openness to try a different path and perhaps even take a short-term step back as none of these options carry the type of win-now expectations that a 'recycled' veteran often does.  At any rate, Boston will want to have their new bench boss in place by the start of free agency on July 13th as the new coach will want to have some say in their personnel moves.
Re-Sign Or Replace Bergeron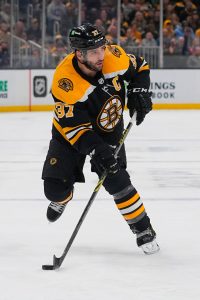 Patrice Bergeron has been a fixture down the middle for Boston for the last 18 years.  He's a five-time Selke Trophy winner and sits 18 points shy of the 1,000-point mark for his career.  The 36-year-old hasn't shown signs of slowing down and is consistently one of their leading scorers.  But Bergeron is set to become an unrestricted free agent next month and there is some uncertainty about his future as a result.  This isn't a case of him threatening to test the market and go elsewhere – he has already ruled that out – but rather a case of him deciding whether or not to hang up his skates and call it a career.
That would certainly be a devastating blow for the Bruins as they don't have anyone in the system to replace him.  If Bergeron does retire, Boston will need to go hard after the notable middlemen in free agency highlighted by Nazem Kadri while Vincent Trocheck will also generate plenty of interest.  If Evgeni Malkin makes it to the open market, they could check in on him as well with a short-term offer.  The other route is to try to trade for an impact middleman but they don't have their first-rounder this year, their next two second-rounders after next month's draft, while their prospect pool isn't the strongest.  That will make it difficult to trade for an impact center if it comes to it.
Adding one will certainly be a necessity if Bergeron retires as they don't have anyone else that's even an ideal second-line center let alone a top liner.  Erik Haula and Charlie Coyle have been hit or miss in key offensive roles in their careers and while they are quality secondary players, they aren't ideal fits on the top trio.  With that in mind, if Bergeron returns, they could still use an impact center behind him.
Forecasting Bergeron's contract if he chooses to come back is a difficult one since he is limiting his options to only the Bruins; it's not implausible to think he'd sign a team-friendly contract to give them some extra cap flexibility.  As it stands, they have just over $2MM in cap space which is hardly enough to do much of anything with.  If Bergeron was to sign a one-year deal, he'd be eligible for incentives which would give them the ability to roll those onto the 2023-24 cap and buy themselves a bit of wiggle room for next season.
Determine Pastrnak's Future
David Pastrnak has certainly provided plenty of value for a late first-round pick back in 2014.  Over his eight-year career, he is just shy of averaging a point per game and has been no lower than third in team scoring over the past six seasons.  Basically, he has been a consistent fixture on Boston's top line while doing so at a team-friendly price as the 26-year-old has been under contract at $6.67MM for the last five years and is signed for the 2022-23 season at that price as well.
Obviously, Boston's preference will be to sign Pastrnak to a contract extension as soon as he's eligible once the new league year begins on July 13th.  It's going to take a sizable financial commitment to do so and it's fair to say his camp will be keeping a close tab on Johnny Gaudreau and Filip Forsberg this summer with Pastrnak's price tag likely to fall somewhere between what those two get.  Something in the $9MM range is certainly doable.
However, there has been some speculation that Pastrnak may not be willing to sign an early extension which will certainly complicate things for Sweeney.  While Boston would undoubtedly command a significant return in a trade for him, doing so would also definitively close their window of contention; if Bergeron was to return, they could plausibly give that core one more chance so that has to be taken into consideration.  While it's possible that they go into next season without a new deal in place, that does have its risks.  Accordingly, the Bruins will want to have a good sense of what Pastrnak's intentions are before the start of free agency, so this will need to be near the top of Sweeney's priority list.
Bring In Defensive Depth
On the surface, the Bruins have some decent defensive depth and will have Jakub Zboril healthy after he missed most of the season due to an injury.  With eight defensemen on one-way deals, it would seem like they wouldn't need any more help.
However, Matt Grzelcyk is out until at least November and Charlie McAvoy is out until at least December due to offseason shoulder surgeries.  Mike Reilly also underwent offseason surgery but should be ready for training camp.
While Boston's depth is decent, they're going to need some extra bodies to get through the first couple of months of the season.  Jack Ahcan could be an option after getting into six games this year but they might want someone with more experience.  Accordingly, Sweeney may have his eyes on some veteran depth players for training camp PTOs or two-way contracts with an intention of having them play in Providence once everyone is healthy.  With the potential for an NHL roster spot or two to start the season, that could be appealing to those players as they consider their options in free agency next month.
Photo courtesy of USA Today Sports Images.  Contract information courtesy of CapFriendly.