The offseason has arrived for half of the league's teams that aren't playoff-bound plus some that were eliminated early in the playoffs.  It's time to examine what they will need to accomplish over the coming months.  Next up is a look at Philadelphia.
Things went off the rails early and often for the Flyers this season.  The team had high internal expectations and didn't come close to meeting them.  Injuries hurt them considerably throughout the year, a coaching change did nothing to turn the tide, and Carter Hart put forth a second straight tough year.  Despite all that, they're showing no signs of a rebuild so their checklist this summer may seem counterintuitive to the direction that many believe they should take.
Thread The Needle
GM Chuck Fletcher has talked about what he terms an aggressive retool.  On the surface, it appears that the intention there would be to shake up the core again, moving veterans for other veterans in the hopes that the new mix will result in better success.  They tried that last summer with the additions of Cam Atkinson and Ryan Ellis but while Atkinson had a decent season with 23 goals and 27 assists, Ellis was limited to just four games due to injury.  In the end, it didn't really change their fortunes.
Fletcher now needs to find a way to make more of those swaps to make the team more competitive now while also not throwing away parts of his future as he did in the Rasmus Ristolainen trade.  While there will be teams open to those types of swaps since many will have salary cap challenges and will be limited to those types of trades involving impact players, finding the right combination of moves to spark the team isn't going to be easy as the success rate around the league on those is nowhere near 100%.
Only one team scored fewer goals than the Flyers this season (Arizona) and only five allowed more goals so clearly, notable changes need to be made both up front and on the back end.  Full seasons from Sean Couturier and Ellis will help but that alone won't be enough.  To borrow terms from other sports, Fletcher will need to thread the needle on a pretty significant sequence of moves and knock a few acquisitions out of the park.  They have their work cut out for them as a result.
Free Up Cap Space
Just when you might be thinking that the above seems pretty daunting in itself, let's bring the salary cap into play now.  Philadelphia has less than $6MM in cap space this summer with Owen Tippett, Morgan Frost, and Zack MacEwen needing new deals up front and a replacement for Keith Yandle on the back end.  Even if that number is a little inflated with some of their end-of-season recalls, there isn't much in the way of flexibility in terms of trying to make a splash in free agency.  Unless, of course, they can clear some money up first.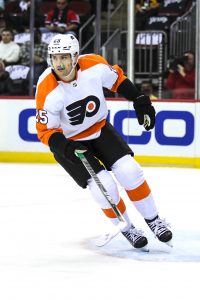 The obvious candidate on that front is James van Riemsdyk.  The 33-year-old has provided the Flyers with some decent secondary scoring in his second stint with the franchise, scoring at least 17 goals in each of his four years since returning (and that low mark came in the COVID-shortened 2020-21 campaign).  However, his effectiveness has waned as he ages and $7MM is an expensive price tag for someone who is best utilized as a middle-six winger.  It's unlikely he's going to turn things around next season and get back to the 30-goal mark so he's someone that stands out as a trade candidate.  The question will be how much of an offset will be needed (either by retention or by taking a player back) or how much of an incentive they'll need to provide to get a team to take the contract without sending any money back.  What happens with van Riemsdyk will go a long way towards determining what they can or can't do this summer.
While they didn't really get a chance to evaluate their full back end due to Ellis missing 78 games, it also seems likely that they will move a defender as part of their aggressive retool.  It won't be Ellis as his value is down after missing almost the entire year and they just committed five years at $5.1MM per to Ristolainen; clearly, he's not moving either.  That leaves Ivan Provorov ($6.75MM through 2024-25) and Travis Sanheim ($4.675MM in 2022-23, then becomes a UFA).  Provorov is coming off an underwhelming year so while moving him would save money, his trade value certainly isn't at its best.  Sanheim is easier to move but yields less in cap savings.  But if they want to shake up the back end again, one of those two may need to be on the move as a result.
Hire A New Head Coach
After the decision to fire Alain Vigneault early in the season didn't yield the results Fletcher was hoping for, the Flyers decided not to continue with Mike Yeo as their head coach for next season.  That puts finding a new bench boss very high on the priority list over the coming weeks.
With Philadelphia committed to trying to retool instead of rebuild, that could push them in the direction of a veteran coach over a first-timer in that role.  While long-time Flyer Rick Tocchet is viewed as a popular option, someone like Barry Trotz – who led quick turnarounds for the Capitals and Islanders – could stand out for that reason as well.  Paul Maurice is also a possible fit if he wanted to get back behind a bench so quickly after stepping away from Winnipeg.
Among the first-time head coaching options, Lane Lambert has long been speculated as a candidate but he could be promoted to the top spot for the Islanders after Trotz's departure.  Nate Leaman is always an option to make the jump from the college ranks while Rikard Gronborg and Roger Ronnberg are international coaches that always come up at this time of year.  But again, a first-time NHL bench boss would be a bit surprising given their win-now intentions.  Regardless, it will be a crucial hire for Fletcher as with the way the last couple of seasons have gone, he may not get another one.
Photo courtesy of USA Today Sports Images.  Salary figures courtesy of CapFriendly.