The offseason has arrived for half of the league's teams that aren't playoff-bound plus some that were eliminated early in the playoffs.  It's time to examine what they will need to accomplish over the coming months.  Next up is a look at New Jersey.
While the Devils made a big splash last summer when they handed Dougie Hamilton the biggest UFA contract, they weren't picked by many to contend for a playoff spot this season.  That said, not many expected them to struggle as much as they did either.  They're a team that's viewed as being on the rise with a good young nucleus so the focus now needs to be on strengthening their squad to get back into postseason contention which is a big part of their summer checklist.
Defensive Decisions
GM Tom Fitzgerald has a few decisions to make this summer when it comes to his back end.  For starters, Damon Severson and Ryan Graves will be entering the final year of their respective contracts next season and both will be UFA-eligible next summer.  Severson had a career year this season and was their top defender in terms of production and playing time.  That has him in line for a sizable raise on his current $4.167MM AAV.  But with Hamilton (another right-shot rearguard) locked up at $9MM per year through 2027-28, can they afford another high-priced blueliner on that side?  If a deal can't be reached, then he becomes a trade candidate.
Graves' situation is a little trickier.  He quietly had a career year offensively and didn't look out of place in his first season with New Jersey.  But his track record is a lot smaller; he has just three full NHL seasons under his belt and two of those were shortened due to COVID.  He's trending towards a raise on his $3.33MM AAV but has he shown enough to be part of their long-term plans?  If so, Fitzgerald will likely want to try to work on an extension once he's eligible to sign one in July.
The other decision they'll need to make pertains to P.K. Subban.  While it's likely that he won't be retained, how are they going to redistribute his $9MM cap hit across the roster?  They have the ability to try to swing big and add another impact blueliner or try to use some of that to cover extensions for one or both of Severson and Graves.  Alternatively, if Fitzgerald opted to reallocate the bulk of that money to his forward group, that could bolster their forward unit.  With the team being near the middle of the pack in that regard this season, a big boost up front could propel them closer to the top ten in that department.
Re-Sign Bratt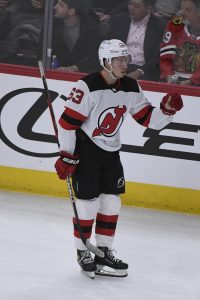 If someone was to ask who New Jersey's top scorer was this season, it'd be understandable the first name that came to mind was either Jack Hughes or Nico Hischier, their core building blocks down the middle.  But that wouldn't be the right answer.  No, the leading scorer was winger Jesper Bratt, a player who more than doubled his previous career-high in points while putting up 26 goals and 47 assists in 76 games.  He picked a perfect time to do so as he's set to be a restricted free agent this summer with arbitration eligibility.  As a result, a new deal for the 23-year-old will be high on Fitzgerald's to-do list.
It won't be an easy task, however, when it comes to finding the right number for a contract.  Is his 73-point season a sign of things to come or an outlier considering his other four NHL seasons had point totals between 30 and 35?  Bratt's camp will certainly argue the former while the Devils will want to hedge against the latter.  Fitzgerald has stated his intention to get Bratt signed to a long-term contract and with only two RFA years remaining, it's going to take a big number to get the winger to lock down the prime years of his career.  He's coming off a deal that carried a $2.75MM AAV and a long-term deal that buys out some UFA seasons will almost certainly cost double that or more.
Add A Goalie
Two years ago, the Devils thought they had the right veteran partner for Mackenzie Blackwood when they signed Corey Crawford to a two-year deal.  However, he had a last-minute change of heart, retiring before training camp.  New Jersey went down a similar path last summer, inking Jonathan Bernier to a two-year deal.  But a hip injury limited him to just ten games this season and he may not be ready to start 2022-23.  In the meantime, Blackwood's stock has fallen considerably from a goalie on the rise to one that couldn't crack the top 50 in the NHL in SV% among qualifying goaltenders this season.
Generally speaking, carrying three goaltenders isn't a desirable situation.  But for the Devils, it's basically a necessity to hedge against Bernier's injury and Blackwood's struggles.  Nico Daws was okay in his first taste of NHL duty but he needs to be in the minors for another season or two so they'll need to look outside the organization for that third netminder.
The UFA market would be the easiest way to go with players like Jack Campbell and Ville Husso representing upside buys, albeit risky ones with their limited track records.  Veterans like Marc-Andre Fleury and Braden Holtby are shorter-term options if their intention is to just shore the position up for now and look for the big fix later.  (Darcy Kuemper is also available but it's hard to see the Devils being the winner for his services.)  With where New Jersey is in terms of still emerging from its rebuild though, will they be appealing to those free agents if they're looking to win sooner than later?
The trade market is another option although that market won't materialize for a while.  Alexandar Georgiev should be available but is he much of an upgrade (and would the Rangers move him to their rival)?  Washington may move one of their goalies if they can land a more proven veteran but again, they come with question marks.  Others will come available over the coming months but will they be considerable upgrades?  That's far from a guarantee.
There aren't any truly obvious choices here for New Jersey other than the fact they'll need to add a goalie at some point over the next couple of months.
Add Win-Now Talent
While New Jersey opted to keep Lindy Ruff behind the bench (instead opting to make a couple of changes to their assistants), it's fair to surmise he'll be on a short leash to start next season.  At some point, they need to go from rebuilding to pushing for a playoff spot; they've only made the playoffs once in the last decade.  That switch should be flipped this summer.
They have a little over $25MM in cap space this summer with Bratt's deal being the only one that will be a high-priced contract.  While they also need to re-sign Miles Wood and Pavel Zacha, they'll have well above $10MM to spend on the open market or in trades which puts them in a much better position than most of the league.  While it's understandable if they want to leave themselves a bit of a cap cushion heading into the season, they should be within a few million of the Upper Limit so there is definitely room to work with.
They have the ability to outbid teams in free agency as they did for Hamilton last summer.  They can take on a bad contract for cheap in a trade that would double as an upgrade on their roster.  The options are plentiful but by the time October rolls around, Fitzgerald needs to find a way to add multiple impact veteran players if the Devils are going to have a realistic shot of trying to get into the Wild Card hunt next season.
Photo courtesy of USA Today Sports Images.  Salary figures courtesy of CapFriendly.