The offseason has arrived for half of the league's teams that weren't playoff-bound plus those that were eliminated early in the postseason.  It's time to examine what they will need to accomplish over the coming months.  Next up is a look at Buffalo.
It wasn't a great year in the standings but things are looking up for the Sabres.  The team was much more competitive in Don Granato's first season behind the bench and several of their young players made promising strides to show that brighter days could soon be on the horizon.  With that in mind, Buffalo's checklist looks a bit different than it has in recent years as they should now begin the process of trying to add talent and emerge from their rebuild.
Sign A Veteran Goalie
At the moment, Buffalo has six goaltenders under contract.  Once the calendar flips to the new league year in July, that number drops to zero.  GM Kevyn Adams will be busy on that front, to say the least, both in terms of NHL and AHL signings.  Let's look at the NHL situation here.
It's widely expected that Ukko-Pekka Luukkonen will be promoted from the minors to fill one of the two spots with Buffalo as he continues his development and the team continues to evaluate whether or not he'll be the goalie of the future for them.  But the most games he has played in any of his professional seasons is 44.  Between that and the fact he has just 13 NHL appearances under his belt, it's safe to say that he's not yet ready to assume the true starting role.
As a result, Adams will be looking for a veteran that is capable of playing more than a typical backup role.  A short-term starter would make some sense or failing that, a platoon netminder to split time with Luukkonen would also work.  Craig Anderson is among Buffalo's pending unrestricted free agents and it seems like re-signing the 41-year-old would be their preference as he fit in quite well in his first season with Buffalo.  It's questionable if he can hold up under a higher workload than the 31 games he played in 2021-22 so if he is their choice, a veteran third-stringer to stash at AHL Rochester certainly would make some sense.
Decide Olofsson's Future
Victor Olofsson has had an up-and-down tenure with Buffalo so far.  After a surprise showing in his rookie season that saw him put up 20 goals and 22 assists in just 54 games, the two sides settled on a bridge contract, a reasonable course of action.  The first year didn't go well and for the majority of this season, things weren't much better.  At the end of February, he had just seven goals in 44 games and looked like he could be heading for non-tender territory.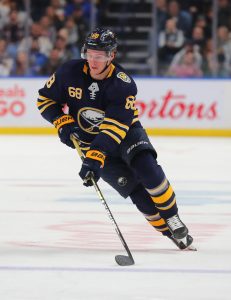 But once March hit, the 26-year-old suddenly rediscovered his scoring touch, potting 13 goals along with 12 assists in the final 28 games.  While the usual caveat about reading too much into production when a team is well out of playoff contention certainly applies, Olofsson may have shown enough to warrant another contract.
If that's the case, what is the right deal?  This is Olofsson's final year of RFA eligibility so it's not as if they can work out a short-term pact and then re-assess before he's UFA-eligible.  With him being unrestricted no matter what, a one-year contract isn't ideal from Buffalo's perspective while finding common ground on a long-term deal could be tricky given the year-to-year variability in his performance.
Olofsson is owed a $3.25MM qualifying offer and has arbitration eligibility this summer.  With a little over six weeks until qualifiers are due, Adams will need to make a decision on this front sooner than later.
Add Defensive Help
At the moment, Buffalo has just three defensemen signed for next season that are locks to make the opening roster.  They're all aged 22 or younger in Rasmus Dahlin, Henri Jokiharju, and Owen Power.  That's a solid cluster of young impact blueliners that are going to be around for a little while but they need some veteran support.
This is something that the Sabres haven't really tried to address in recent years which is understandable with the team clearly more interested in being at the bottom of the standings than the top over that stretch.  Doing so allowed Dahlin and Jokiharju to log heavy minutes and play through some mistakes.
However, assuming their plan is to start to push forward with trying to get back to the playoffs after missing the postseason for an 11th straight year, they need some veterans capable of logging heavy minutes to work with these three.  In an ideal world, they find three of them, one to partner with each youngster which would allow someone like Mattias Samuelsson to see more AHL action.
That said, adding three impact blueliners would be a tall task for any team, especially since there aren't a lot of them available in free agency this summer.  With more than ample cap space though, this seems like an area where Adams should have the green light to bid aggressively.  Three would be perfect, two would be nice, but one is simply a necessity if they want to help their goalies and more importantly, help their young rearguards find another level in their development.
Thompson Extension Talks
The first season of Tage Thompson's bridge contract didn't go well as he put up just 14 points in 38 games in 2020-21.  Heading into this season, expectations were quite low as a result.  If he could lock down a full-time spot and play with some consistency, it likely would have been viewed as a success.
But what the 24-year-old did in 2021-22 was far beyond realistic expectations, likely beyond even the most optimistic projections for Thompson as he put up 38 goals and 30 assists.  That goal total put him 19th in the entire league while he also made the transition to playing down the middle.  While it took several years, Thompson certainly showed the offensive promise that made him a first-round pick back in 2016.
Thompson's timing for his offensive outburst was pretty optimal as well as he's eligible to sign a contract extension once free agency opens up in mid-July and he officially enters the final year of his deal.  If Adams and the Sabres believe that Thompson's performance is a sign of things to come, they will almost certainly try to work out an extension this summer as anything close to a repeat performance in 2022-23 will only drive the asking price higher.  Meanwhile, after being a depth player for the first few years of his career, the prospect of a big money, long-term extension might appeal to Thompson.  This is something that doesn't have to happen but it wouldn't be surprising to see both sides take a run at an extension in the coming months.
Photo courtesy of USA Today Sports Images.  Contract information courtesy of CapFriendly.