Maple Leafs forward Jason Spezza has announced his retirement today, ending an NHL career that lasted over 1,200 games. As part of the announcement, it was revealed that Spezza will be joining Toronto's front office as special assistant to GM Kyle Dubas. Spezza gave a statement regarding his decision, saying:
Hockey has been my life's work and to be able to come home to Toronto and bookend my playing career where it started was incredible. To the fans – in Ottawa, Dallas, Toronto and across the league – your impact on the game is immeasurable. I'll never be able to replicate that feeling of stepping onto the ice to the roar of the crowd, but it is something I'll always remember. Thank you.
Spezza's full statement can be read as part of the Maple Leafs' announcement. While Spezza ends his career without any major NHL awards or his name on the Stanley Cup, he hangs up his skates with something arguably far more valuable: the respect and adoration of the entire hockey world.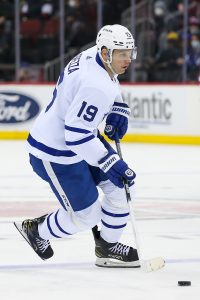 Dubas spoke to that as part of the Maple Leafs' announcement, stating: "It is difficult to describe just how much of a lasting and positive impact that Jason Spezza made in his three seasons with the Maple Leafs." Similar comments have begun flowing in from across the hockey world. TSN's Chris Johnston spoke to Spezza's unwavering professionalism despite declining ice time and production, TSN's James Duthie called him a "pure class guy from start to finish," and Sportsnet's Eric Engels put it simply: "great guy, great player."
Engels' statement is one that best describes the impact Spezza has had on hockey throughout his 20-year professional career. He could do it all on the ice: he led the Ottawa Senators to some of the best seasons in their franchise's history and was among the NHL's most talented scorers for that stretch. He dazzled with his offense and helped the NHL game transition to the more skill-based brand of hockey we are now accustomed to.
But even beyond Spezza's incredible impact on the ice has been the things he's done off it. Spezza has been involved in numerous philanthropic causes over the course of his career and has often led the charge in those efforts, using the valuable platform his skills gave him to do good. Whether it was in Ottawa, Dallas, or Toronto, Spezza always went above and beyond to be a player his city could be proud of, regardless of how he was performing on the ice.
In terms of his new role, Dubas said Spezza will begin immediately, starting with this year's NHL Entry draft and free agency, and will primarily be observing and learning at this point (link). Dubas added that Spezza will be given the next year or so to experience the entire front office picture before determining where he is best suited in his management career (link). Of course not sure yet, Dubas predicted player evaluation and management would be where his former player would end up.
While a potential Hall of Fame debate and heated discussions about his ultimate on-ice legacy are sure to come, the impact Spezza leaves on this era of hockey and the teams he played for is undeniable. If Spezza's career as a Maple Leafs executive is anything like his playing career, fans in Toronto should be extremely excited.
Photo courtesy of USA Today Sports Images