As the playoffs continue on, there was plenty of notable news away from the ice which gets the spotlight in our key stories.
Agent Change: Generally speaking, a player changing agents isn't big news.  But when it's a prominent player making the switch just before extension talks are set to begin as Red Wings center Dylan Larkin did, it's newsworthy.  His former agency at KO Sports indicated in a statement that extensive work had already been done on preparations to begin extension talks so Detroit fans should be pleased that there appears to be a willingness on his end to extend his stay with his hometown team.  Larkin will now be represented by CAA and agents Matt Williams and Pat Brisson.  He will have a $6.1MM AAV next season and is well-positioned for a nice raise on that for his next contract.
Marchand To Miss Extended Time: The Bruins will be without a star winger when the puck drops on the 2022-23 season as Brad Marchand underwent successful hip arthroscopy and labral repair on both of his hips.  The procedure carries a recovery time of roughly six months which means he is likely to miss at least the first month of next season.  His absence will certainly be a significant blow for Boston as the 34-year-old has been a consistent high-end scoring threat, averaging over a point per game in six straight seasons, including notching 80 points in 70 contests this season.  Impressively, he picked up 11 points in seven playoff contests as well while trying to play through the injury.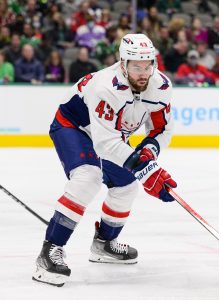 Wilson Out Too: The Capitals will also be missing a key winger to start next season as winger Tom Wilson had surgery to repair a torn ACL.  The expected recovery timeline is six to eight months so the 28-year-old will miss the first month at an absolute minimum and could be out until close to midseason if it takes the full time to recover.  While Wilson is best known for his physicality and run-ins with the Department of Player Safety, he has also become a key offensive threat for them and is coming off a career year with 24 goals and 28 assists in 78 games.  With Nicklas Backstrom's hip issues not getting any better, Washington is facing a situation where they are likely to be without a pair of top-six forwards when the puck drops on the 2022-23 season.
Calling It A Career: After spending the last three seasons with Toronto on minimum-salary contracts, veteran Jason Spezza has hung up his skates, announcing his retirement at the age of 38.  Spezza had made it clear that he wouldn't go elsewhere this summer and presumably, the Maple Leafs had decided not to bring him back, at least in an on-ice capacity; Spezza has joined their front office as a special assistant to the GM.  His playing days end with 1,248 games played between Ottawa, Dallas, and Toronto while he winds up just five points shy of becoming the 94th player in NHL history to reach the 1,000-point plateau.
Flyers Interview Tortorella: The Flyers are casting a wide net as they continue their search for their next head coach.  It was revealed that they interviewed ESPN analyst John Tortorella for their vacancy.  The 63-year-old has coached 1,383 career regular season contests and sits 14th all-time in victories.  He has plenty of familiarity with the division having coached with the Rangers and Blue Jackets and would fit Philadelphia's desire to find a coach that can help them win now.  Others that have already been interviewed or are believed to be in the mix include Barry Trotz, Jim Montgomery, Kirk Muller, and Mike Vellucci.
Photo courtesy of USA Today Sports Images.