The Colorado Avalanche are expected to make a lineup change for tonight's game against the St. Louis Blues, re-inserting Andre Burakovsky after he was made a healthy scratch the last two matches. Burakovsky was working with the second powerplay unit at morning skate, while Alex Newhook was on the ice late with the other expected scratches. Speaking to reporters including Peter Baugh of The Athletic, head coach Jared Bednar explained that if Burakovsky does play tonight he wants "to see him come in and work and play his best game."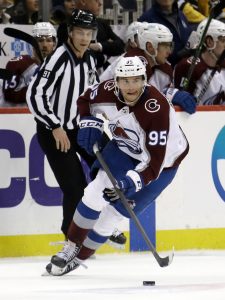 Burakovsky, 27, has always been something of an enigma. Armed with all of the skills and measurables that should make him an elite offensive player in the league, he has struggled with consistency for his entire career, both with the Washington Capitals and once he got to Colorado. It seemed as though he had put some of that behind him this season when he set new career highs with 22 goals and 61 points in 80 games, but a difficult run of play in the postseason had him down on the fourth line and then up in the press box. He has three points in seven playoff games, all of them coming in the deciding game four against the Nashville Predators.
Perhaps the most interesting part of the whole saga is that Burakovsky is an unrestricted free agent at the end of the year. Currently in the final season of a two-year deal he signed in 2020, which carries a cap hit of $4.9MM, the 6'3″ winger could be a highly sought-after commodity on the open market. He also could be an important piece for the Avalanche to bring back, but with nearly half their roster headed for free agency, it might not be financially possible if he's looking for a raise. Burakovsky is joined by Nazem Kadri, Valeri Nichushkin, Josh Manson, and Darcy Kuemper among the team's many pending UFAs, meaning some difficult decisions will have to be made.
There's no doubt that on many teams, Burakovsky would be nowhere near the press box despite his inconsistent play. The Avalanche are one of the deepest forward groups in the league at the moment, and have the luxury of moving someone like Newhook in whenever necessary. Make no mistake though, this is the time of the year that can really change a player's perception around the league and add millions of dollars to a contract negotiation; Burakovsky has a chance to take advantage of that opportunity, and show he can be relied on in the most important situations.
Photo courtesy of USA Today Sports Images