As the calendar turns to March, the trade deadline is inching closer. Where does each team stand and what moves should they be looking to make?  We continue our look around the league with the Boston Bruins.
The Boston Bruins have learned the hard way this year that every player has an expiration date. The sudden departure of David Krejci to Europe this summer and the failed comeback attempt of Tuukka Rask removed two of the team's core players, despite both still performing at an elite level just last season. It left only two names remaining from their 2011 Stanley Cup roster: Patrice Bergeron and Brad Marchand. While both are still at the top of their games, there is no way for the club to know just how long that might last. Bergeron and Marchand have been back to two Cups since 2011, but a second title has eluded them and the chances to win it all one more time are running out.
Locked into a playoff spot in the East – albeit likely a wild card spot – the Bruins can't waste an opportunity to provide these veteran stars with another shot at a championship. With considerable salary cap flexibility, especially compared to most other contenders, and a full collection of draft picks, Boston looks primed to make some noise. However, they will also try to keep an eye on the future and protect what few blue-chip prospects they have. Can they make a big enough move to win a Stanley Cup this season without mortgaging the future?
Record
32-17-4 (.642), fourth in Atlantic Division
Deadline Status
Buyer
Deadline Cap Space
$3,357,753 today, $5,036,630 in full-season space, 0/3 retention slots used, 44/50 contracts used per CapFriendly
Upcoming Draft Picks
2022: BOS 1st, BOS 2nd, CGY 3rd, BOS 4th, BOS 5th, BOS 6th, BOS 7th
2023: BOS 1st, BOS 2nd, BOS 3rd, BOS 4th, BOS 5th, BOS 6th, BOS 7th
Trade Chips
The most obvious trade chip for the Bruins is forward Jake DeBrusk. DeBrusk formally requested a trade from Boston earlier this season and by all accounts, that request still stands. While a slow start coming off a down year in 2020-21 didn't inspire the bidding war that the Bruins might have hoped for, the status quo is beginning to shift. DeBrusk has been red hot of late and potential suitors who were previously hesitant of acquiring DeBrusk given his lofty qualifying offer may be rethinking their position or at least looking to get creative.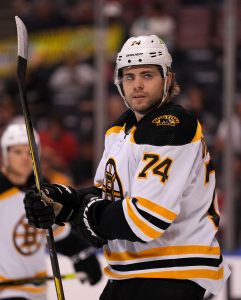 Of course, DeBrusk's strong play in recent weeks could also force the Bruins to change their approach to the trade request as well. Boston is under no obligation to honor the request in a given time period and could be looking to play out the year with DeBrusk while he is finding success. If he continues to score, the Bruins could still trade his restricted free agent rights or perhaps even re-sign him if the relationship has improved. If DeBrusk cools off, as he has been known to do, the team could always let him walk, essentially treating him as an internal rental. If DeBrusk is moved before the deadline, the Bruins will have to immediately replace him with another top-six winger anyhow.
The Bruins do not need to move DeBrusk to accomplish their goals at the deadline. With a full complement of draft picks (thanks to the Calgary Flames replacing a missing 2022 third-round pick), the team can package picks and prospects to acquire help. Which picks and prospects they are willing to part with will ultimately determine who lands in Boston. With a shallow system when it comes to elite young talent, top prospects Fabian Lysell and Mason Lohrei seem safe, but may not be entirely off the table.
More likely to move are some of the Bruins' older, NHL-ready prospects. The Bruins have been able to showcase some promising pro talent this season in forwards Jack Studnicka and Oskar Steen and defenseman Urho Vaakanainen. The team would normally not be in any hurry to move them, but face an impending roster crunch next season when all three become eligible for waivers. If the team won't have the roster space to keep them all safely in the NHL next year, it could make the trio more susceptible to being traded this year. Of course, the alternative would be to move some of those young players who they could replace. Injured defenseman Jakub Zboril was playing well before he was sidelined and will be in line for a roster spot next year as well if still in the organization. Or could the affordable Connor Clifton instead be on the move, allowing Vaakanainen and Zboril to play in Boston next year? Upfront, if Studnicka and Steen have been prioritized for roster spots next year, could Trent Frederic instead be the odd man out?
Though unlikely to make much of a difference, it is worth noting that DeBrusk is not the only Bruin to have requested a trade. Fellow 2015 first-rounder Zach Senyshyn would also like a fresh start and it would not be surprising if he is dealt at the deadline as a minor piece in a package. The speedy, two-way winger has admittedly not received much NHL opportunity, but also hasn't done enough to earn it.
Others To Watch For: F John Beecher, F Jakub Lauko, F Quinn Olson, D Jack Ahcan, D Victor Berglund
Team Needs
1) Top-Four Defenseman
The Bruins believed that by re-signing last year's deadline addition Mike Reilly and adding Derek Forbort to a defense corps that already had Charlie McAvoy, Brandon Carlo, and Matt Grzelcyk they would be in good shape on the blue line this season. While the early returns suggested the same, especially with Zboril also impressing, as the season has worn on the defense has become the main point of concern for this Bruins team. Zboril is now out for the season, Vaakanainen is also sidelined, and Clifton has struggled in a regular role. At the very least, the Bruins need to add a more reliable option for the right side of their third pair. However, the team should aim higher to take some pressure off of McAvoy, who is playing huge minutes and in all special teams situations and is the only blueliner regularly contributing on offense. A veteran top-four defenseman that can produce and eat minutes would allow the Bruins to shift other defensemen down the lineup to build a deeper, more reliable starting group. The team could even look to add both a starter and additional depth option on the blue line.
2) Top-Six Right Wing
If DeBrusk is in fact traded, this becomes the Bruins' biggest need – if not already addressed in the DeBrusk return. Boston has found great chemistry in its current second and third lines of Taylor Hall–Erik Haula–David Pastrnak and Trent Frederic–Charlie Coyle–Craig Smith. However, with Pastrnak and Smith playing lower in the lineup, a hole was created beside Bergeron and Marchand on the top line. DeBrusk took the job by default and has taken advantage, but his previous struggles on his offside and with consistency are a concern. If the team opts to sell high on DeBrusk, they will need a new right-wing for the top line. Even if DeBrusk is not traded, it still would not be a bad idea to add some security with a depth scorer. Former Bruin Phil Kessel is one name that has been linked to Boston.
3) Long-Term Top-Six Center or Top Pair Defenseman
If the Bruins decide to go all out at the deadline and address long-term needs rather than just short-term solutions, a young, left-handed defenseman and a proven second-line center are the organization's most glaring holes. As previously noted, McAvoy needs a long-term defense partner. Perhaps even more pressing though is the depth down the middle, where there is no heir apparent to the aging Bergeron with Coyle and Haula limited in their ability and prospects such as Studnicka, Frederic, and Beecher yet to show top-six upside. The question of course is whether Boston wants to fill these gaps via trade at great cost to their pipeline or if they will instead wait for the free agent market.
Photo courtesy of USA Today Sports Images