With the trade deadline now less than a month away, we continue our look at some of the players who have a good chance of being on the move between now and March 21st.
Last season wasn't a great one for Max Domi.  He struggled to fit in with the Blue Jackets in his first year with the team and certainly didn't live up to his contract.  Then he suffered a long-term injury and the combination of that was enough to cause Seattle to pass on him for free in expansion (where they instead picked someone that went back to Columbus days later as a free agent).  However, this season has gone a bit better for him which may be enough to help him land a new home with a playoff-bound team in the near future.
Contract
Domi is in the final season of a contract that carries a $5.3MM AAV.  He has a $6MM salary and will be an unrestricted free agent in July.  As his deal only covered RFA-eligible years, he wasn't eligible for any type of trade protection.
2021-22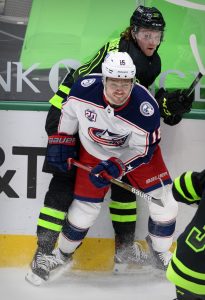 Domi went through a bit of a roller coaster in the early going this season.  He came back from shoulder surgery much earlier than expected and was in the lineup on opening night, collecting three points.  Then he had a fractured rib and soon after returning from that, he landed in COVID protocol, missing another three weeks.
Since then, Domi has managed to stay in the lineup, albeit not quite in the role GM Jarmo Kekalainen envisioned when he acquired the 27-year-old from Montreal in 2020.  He has played exclusively on the wing this season instead of filling a spot down the middle as originally planned.  Domi has also spent time on all four lines without really being able to settle into one spot.
Domi has also been very unproductive on the power play.  He has played over 56 minutes on the man advantage this season and has one assist to show for it.  That's the negative slant.  The positive slant is that all but one of his points have come at five-on-five and the role that contending teams will want him to fill is one that even strength production is more important than producing on the power play.
Season Stats
44 GP, 9 goals, 16 assists, 25 points, -1 rating, 30 PIMS, 65 shots, 13:24 TOI, 47.4 CF%
Potential Suitors
While Domi can play in the top six if needed (he has at times throughout his career), that's not the role teams should be eyeing him to play.  With that in mind, his suitors should be those that want him for more of a depth spot in their lineup.  That said, Domi's price tag for that role will limit the number of teams who could realistically fit him in without having to move a roster player the other way.
In the East, I had the Bruins pegged as a possible suitor for Domi at the beginning of the season where his positional flexibility can be useful.  He won't be their top target but he would add some scoring to their bottom six.  The same can basically be said for the Panthers if some of their stronger targets go elsewhere.  The Rangers have the cap room to add a few pieces and they're a team that would benefit from adding some offensive skill to their bottom six while still trying to fill other areas.  The Maple Leafs have come up as a speculative fit as of late but depth scoring isn't their top need; they'd need to strike out on filling those and have Jake Muzzin stay on LTIR for the rest of the season for that to really be an option.
Out West, the Kings may be more inclined to do a smaller deal or two that doesn't involve giving up any longer-term assets and play it safe.  That's more of the range that Domi should fit in as he won't command a significant price in return.  The Predators also have ample cap space and could stand to upgrade their bottom six.  They're another team where it doesn't seem likely that they'll make a big splash so some smaller, safer moves like this may be more in their wheelhouse.
Likelihood Of A Trade
At this point, it doesn't seem like Domi is a strong candidate to return to the Blue Jackets.  While Columbus has been on a bit of a nice run as of late, they're still longshots to reach the playoffs.  As long as they're willing to retain on the contract, there's a very good chance that Domi is in another uniform after the deadline.
Photo courtesy of USA Today Sports Images.