The Philadelphia Flyers received less than 100 minutes of ice time from Ryan Ellis this season. The veteran defenseman has been ruled out for the rest of the season, Flyers general manager Chuck Fletcher told reporters including Charlie O'Connor of The Athletic. Though he still wouldn't reveal details on the injury, Fletcher noted that they are still making a decision on whether Ellis needs surgery.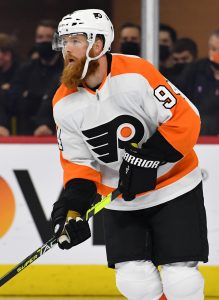 While this should come as no surprise, given how the year has gone for Philadelphia, Ellis' first season with the team is now completely lost. The 31-year-old appeared in just four games, the last coming on November 13. He actually recorded points in each of those appearances, exactly the kind of frustrating teaser that Flyers fans don't want to think about after a season that has been marred by injury after injury, and is ending with the captain and face of their franchise traded to an Eastern Conference rival.
Acquired for Nolan Patrick and Philippe Myers in the offseason–two players who have also disappointed–Ellis was supposed to be the right-handed answer in Philadelphia, finally replacing the two-way play that they had lacked on that side since Matt Niskanen's unexpected retirement. He had, after all, played that role to perfection for many seasons in Nashville, offering 40-point upside while contributing in all situations.
Unfortunately, the Flyers are now looking at a player on the wrong side of 30, signed for five more seasons, that carries a $6.25MM cap hit and has missed essentially an entire year due to injury. It's not at all clear what level of play Ellis will be able to provide next season, especially should they decide on surgery.
Still, the Flyers aren't really looking at a rebuild, despite moving on from Claude Giroux and some other expiring pieces. The team re-signed Rasmus Ristolainen to a long-term deal and have talked about how Fletcher will be given a "blank check" to fix the team. Should Ellis return to his previous form, it will be a huge boost to the lineup, though at this point even a recovery timeline is not certain.