The New York Rangers have made an interesting defensive addition, acquiring Justin Braun from the Philadelphia Flyers. The Flyers will receive a 2023 third-round pick in exchange for the defenseman.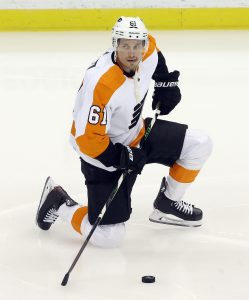 Braun, 35, is a pending unrestricted free agent like many of the other players moved today, but represents a nice fit for the Rangers who have decided to push at least a few chips to the middle during their surprising run in the Metropolitan Division. While the team is still on the way up, Igor Shesterkin and company have done enough in the first part of the season to deserve a bit of deadline help.
That help comes in the form of the 6'2″ Braun, who has a history of playing with more mobile, offensive partners. This year that's been almost entirely with Ivan Provorov, who has also heard his name bandied about in trade rumors recently. Braun now goes to a team with several of those puck-movers, and could potentially help support a younger player like K'Andre Miller as the team takes the next step in their competitive window.
For the Flyers, selling Braun was almost a certainty after they decided to move out pending free agents. While a second-round pick surely was the target, they'll have to settle for a third when it comes down to it. The fact that it's in 2023 is interesting though as that draft has been targeted heavily in trade talks and the Flyers don't seem committed to a true rebuild. They could potentially flip that pick at some point down the line for more immediate help.
The Rangers still have plenty of picks to deal from if they want to add more at the deadline, including two second-round picks this year. They also have plenty of cap space, meaning more moves could be coming in the next few hours.
Jeff Marek of Sportsnet was first to break the trade on Twitter. 
Photo courtesy of USA Today Sports Images