One of the names talked about most this season when it comes to trade bait is John Klingberg, the long-time Dallas Stars defenseman and a pending unrestricted free agent. Klingberg hasn't made any progress with the Stars on an extension and had previously been given permission to speak to other teams around the league about a potential fit.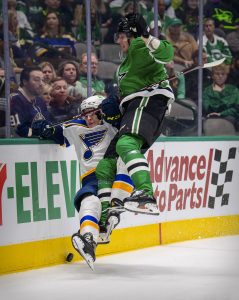 If the Stars had planned on trading him, they likely are pretty grateful they waited, now that Miro Heiskanen is out indefinitely following a mononucleosis diagnosis. In the games since Heiskanen left the lineup, Klingberg has logged the following ice times: 26:41, 25:31, 23:36, 22:15. Not exactly a player you can easily replace if the Stars' young defenseman doesn't return soon.
Still, Saad Yousuf of The Athletic writes that Heiskanen's absence is "not a deciding factor" and that the team hasn't completely closed the door on a trade, even if it has become more unlikely. The Stars would be looking for a package that wasn't exclusively future assets though, according to Yousuf, wanting a player who they could plug into the lineup immediately if any deal is reached.
That's certainly not an easy move to make, and on the 32 Thoughts podcast, Jeff Marek of Sportsnet–who has been on the Klingberg story from the beginning–talked about how difficult it would be for the Stars to give up a player when they're this close to the playoffs. The team is now one point behind the Vegas Golden Knights with four games in hand, and still in the race for a Central Division spot beyond that. Marek confirms that there have been teams chasing the pending free agent (including the Carolina Hurricanes at one point) but that he is probably "too valuable" at this point for Dallas.
All Klingberg has done in his past three games is put up five points, taking his season total to 31 through 50 games. Despite the short stint on the third pairing, missed games, and the trade rumors swirling around him, the 29-year-old is still on pace for a 45-point season. If he hits that market, it would be for the sixth time in his career. The biggest thing Heiskanen's absence might affect is the dollar figure on Klingberg's next deal. A stretch run playing 25 minutes a night on a playoff contender certainly won't hurt his market this offseason.
Photo courtesy of USA Today Sports Images