Now that he could officially ink an eight-year deal, Jesperi Kotkaniemi is locked in with the Carolina Hurricanes. The team has announced an eight-year extension which will carry an average annual value of $4.82MM. PuckPedia reports the full breakdown:
2022-23: $4.0MM
2023-24: $4.5MM
2024-25: $4.82MM
2025-26: $4.82MM
2026-27: $4.82MM
2027-28: $5.2MM
2028-29: $5.2MM
2029-30: $5.2MM
The deal does not contain any signing bonuses and includes a ten-team no-trade clause once he is eligible for it in 2025.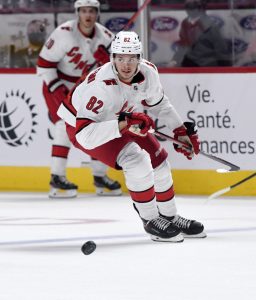 Kotkaniemi, 21, will always be a hot-button issue for Carolina and Montreal Canadiens fans, after he was signed to an offer sheet last summer that came with plenty of gamesmanship between the two franchises. The young forward certainly hasn't lived up to the $6.1MM cap hit he carried this season but will now lock in at a much more reasonable number for the next chunk of his career.
Still, this is a huge commitment from the Hurricanes and one that includes a ton of risk. The young forward has not taken a substantial step forward since entering the career as a teenager in 2018-19 and has just 11 goals and 23 points this season in limited minutes with the Hurricanes. Sure, he would likely see more offensive production if given more than the 12 minutes he averages for Carolina, but this isn't the kind of player that usually earns an eight-year deal. Given the fact that the Hurricanes also had to forfeit first- and third-round picks as offer sheet compensation, they've sunk a huge amount of resources into this player already, without much to show for it.
There's certainly a chance that he outproduces this contract, especially given the fact that Vincent Trocheck and Nino Niederreiter could both leave in unrestricted free agency, opening plenty of playing time at center and wing, but also no guarantee that he can play regular minutes in the top-six next season, at least not on a team as strong as Carolina. If not, the team is backing themselves into a corner with a contract of this length, one that would be hard to move if Kotkaniemi's development falls flat.
In for a penny, in for a pound, though, as the Hurricanes commit to the young Finn and look to use him as a building block moving forward. He's now signed longer than any player in the organization.
Photo courtesy of USA Today Sports Images