With the collegiate hockey season coming to a close, the three finalists for the Hobey Baker Award have been announced. The trophy is given to the top NCAA player in the country and has an impressive line of winners over the past few years. In 2014, Johnny Gaudreau took home the award as a junior for Boston College, followed by Jack Eichel in his only year for Boston University in 2015. Jimmy Vesey, Will Butcher, and Adam Gaudette don't bring quite the same impact but still became NHL regulars after winning from 2016-18.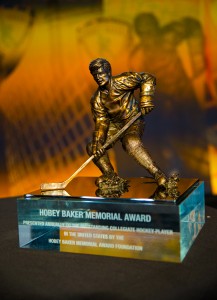 2019's winner was University of Massachusetts defenseman Cale Makar, who has gone on to win the Calder Trophy as the NHL's best rookie and is now dominating the league with the Colorado Avalanche. In 2020 the award was given to Scott Perunovich, who is dealing with some unfortunate injury issues to start his career but still looks like a future contributor to the St. Louis Blues blueline.
In 2021, Cole Caufield took home the award after leading the nation in scoring at the University of Wisconsin. Caufield made an immediate impact by helping the Montreal Canadiens reach the Stanley Cup Final a few months later and, while struggling early this season, is now back to his scoring ways under new coaching.
The award also has several top NHL alumni in its small fraternity, including Neal Broten, Tom Kurvers, Paul Kariya, Chris Drury, Ryan Miller, and Brendan Morrison. With that group behind them, this year's winner is certainly not someone to take lightly.
Earlier this year, 77 players from the NCAA ranks were nominated for the award, and ten finalists were announced earlier this month. Those ten players have been narrowed to just three, your Hat Trick Finalists.
Bobby Brink – University of Denver (Philadelphia Flyers)
The 34th overall selection in 2019, Brink has shown once again that if you give him a chance to get acclimated to a new league, he'll dominate it. The DU junior had 14 goals and 56 points in just 39 games, blowing by his total from the first two years of his college career. Listed at just 5'9″ 166-lbs, he led the entire nation in scoring on both a total and per-game basis, and now has Denver into the Frozen Four. They'll take on Michigan on April 7, a game that will have general managers all across the NHL waiting by their phones to call up whichever prospects are eliminated.
Dryden McKay – Minnesota State University-Mankato (undrafted)
McKay is a Hat Trick Finalist for the second year in a row, after losing the award to Caufield in 2021. His placement this year will certainly come with some raised eyebrows because of the performance that Devon Levi had, but there's no doubt that McKay was once again one of the most valuable players in the country. Undrafted, the 24-year-old netminder put up a .934 save percentage in 41 games, winning 37 of them. If he can win a national championship, his college career will go down as one of the best of all time. McKay has gone 112-19-4 with a .932 save percentage over his four seasons and will have plenty of interest from clubs when he's eliminated, even if he isn't quite the prototypical NHL goaltender build.
Ben Meyers – University of Minnesota (undrafted)
Captain of the Golden Gophers, Olympian, and sixth-leading scorer in the nation, Meyers has come a long way since the undersized forward that barely got drafted into the USHL. Despite doubters at every level, he continues to improve and will now be a huge focus for NHL teams next month. In 33 games this season he had 17 goals and 41 points, while adding another four points in four Olympic games with Team USA. While he technically could return for a senior season, it's going to be difficult to turn down the offers that come his way in a few weeks–especially if a good number of other Minnesota players decide to turn pro.