With the collegiate hockey season more than half over, voting for the Hobey Baker Memorial Award has opened with 77 players nominated for the award. The trophy is given to the top NCAA player in the country and has an impressive line of winners over the past few years. In 2014, Johnny Gaudreau took home the award as a junior for Boston College, followed by Jack Eichel in his only year for Boston University in 2015. Jimmy Vesey, Will Butcher, and Adam Gaudette don't bring quite the same impact but are still NHL regulars after winning from 2016-18.
2019's winner was University of Massachusetts defenseman Cale Makar, who has gone on to win the Calder Trophy as the NHL's best rookie and is now dominating the league with the Colorado Avalanche. In 2020 the award was given to Scott Perunovich, who, after some unfortunate injury issues to start his career, has become a regular part of the St. Louis Blues blueline.
In 2021, Cole Caufield took home the award after leading the nation in scoring at the University of Wisconsin. Caufield made an immediate impact by helping the Montreal Canadiens reach the Stanley Cup Final a few months later and, while struggling this season, looks like a key building block for the future.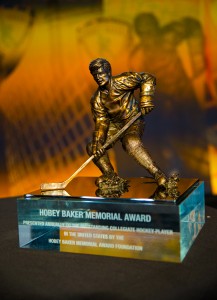 The award also has several top NHL alumni in its small fraternity, including Neal Broten, Tom Kurvers, Paul Kariya, Chris Drury, Ryan Miller, and Brendan Morrison. With that group behind them, this year's winner is certainly not someone to take lightly.
The fan vote will be added to the opinions of NCAA head coaches to come up with a 10-man finalist group on March 16, which will then have another fan vote and go through a selection committee. The nominees are as follows:
Nick Abruzzese – Harvard University
Corey Andonovski – Princeton University
Max Andreev – Cornell University
Jacob Barczewski – Canisius College
Drew Bavaro – Bentley University
Jacob Bengtsson – Lake Superior State University
Matty Beniers – University of Michigan
Trenton Bliss – Michigan Technological University
Louis Boudon – Lake Superior State University
Carson Briere – Mercyhurst University
Bobby Brink – University of Denver
Easton Brodzinski – St. Cloud State University
Nathan Burke – Bowling Green State University
Will Calverley – Rochester Institute of Technology
Declan Carlile – Merrimack College
Gabe Carriere – University of Vermont
Hank Crone – Northern Michigan University
Gustavs Davis Grigals – University of Alaska Fairbanks
Drew DeRidder – Michigan State University
Max Ellis – University of Notre Dame
Ryan Fanti – University of Minnesota Duluth
Sean Farrell – Harvard University
Domenick Fensore – Boston University
Kevin Fitzgerald – St. Cloud State University
Ethen Frank – Western Michigan University
Riese Gaber – University of North Dakota
Matthew Galajda – University of Notre Dame
Cole Guttman – University of Denver
Brian Halonen – Michigan Technological University
Jordan Harris – Northeastern University
Austin Heidemann – Mercyhurst University
Billy Jerry – Long Island University
Kent Johnson – University of Michigan
Jachym Kondelik – University of Connecticut
Matthew Kopperud – Arizona State University
Philip Lagunov – University of Vermont
Devon Levi – Northeastern University
Ture Linden – Rensselaer Polytechnic Institute
Andrew Lucas – University of Vermont
Connor MacEachern – Pennsylvania State University
Mitchell Martan – Canisius College
Keaton Mastrodonato – Canisius College
Jack McBain – Boston College
Aidan McDonough – Northeastern University
Dryden McKay – Minnesota State University, Mankato
Marc McLaughlin – Boston College
Zach Metsa – Quinnipiac University
Ben Meyers – University of Minnesota
Joseph Nardi – Northern Michigan University
Max Newton – Merrimack College
Owen Norton – Mercyhurst University
Nick Perbix – St. Cloud State University
Yaniv Perets – Quinnipiac University
Clayton Phillips – Pennsylvania State University
Kaden Pickering – St. Lawrence University
Jackson Pierson – University of New Hampshire
Blake Pietila – Michigan Technological University
Owen Power – University of Michigan
Brady Risk – University of Alaska Fairbanks
Jake Sanderson – University of North Dakota
Isaiah Saville – University of Nebraska Omaha
Carter Savoie – University of Denver
Owen Savory – University of Massachusetts Lowell
Owen Sillinger – Bemidji State University
Nathan Smith – Minnesota State University, Mankato
Jack St. Ivany – Boston College
Jaxson Stauber – Providence College
Matt Stienburg – Cornell University
Colin Theisen – Arizona State University
Bobby Trivigno – University of Massachusetts Amherst
Braeden Tuck – Sacred Heart University
Ryan Tverberg – University of Connecticut
Zach Uens – Merrimack College
Kevin Wall – Pennsylvania State University
Taylor Ward – University of Nebraska Omaha
Colton Young – Colgate University
Emil Zetterquist – St. Lawrence University