With the trade deadline now less than a month away, we continue our look at some of the players who have a good chance of being on the move between now and March 21st.
Over the summer, the Coyotes moved out several veterans and really dove into their long-term rebuilding project.  However, one veteran that wasn't moved out at that time was winger Phil Kessel.  With playoff-bound teams looking to add some scoring depth between now and the trade deadline, it stands to reason that there's a good chance that Kessel will be on the move in the coming weeks.
Contract
Kessel is in the final season of his deal that carries a $8MM cap hit.  $5MM of his money owing for this season was paid out in a signing bonus while his base salary is only $1MM.  Toronto is retaining 15% of that amount so Arizona's cap hit is $6.8MM.  The contract also contains an eight-team no-trade clause.
2021-22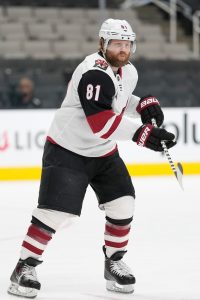 It has been a tough year for many Coyotes as Arizona sits in the basement of the Western Conference.  It wouldn't necessarily be fair to lump Kessel in with that majority, however.  His goal total is down but his assist numbers are the best they've been in the desert.  As a result, he sits second on the team in scoring behind Clayton Keller.
Despite several of their top players moving, it hasn't really resulted in an increase in ice time for the 34-year-old which is in contrast to their other higher-scoring forwards.  Keller is averaging more than three minutes a game more, so is Lawson Crouse, and Travis Boyd (who wasn't with Arizona last year) is logging over four minutes a night higher as he has gotten the type of opportunity that eluded him in the past.  Kessel, meanwhile, is averaging 13 seconds per game more than last year.
Unsurprisingly, his utilization is the same as usual – lots of power play time and the rest at five on five.  Wherever he winds up going, that should stay intact as he's never going to be the type of player that kills penalties and plays in key defensive situations but in offensive areas, he can still contribute.
Season Stats
51 GP, 6 goals, 27 assists, 33 points, -11 rating, 18 PIMS, 109 shots, 17:18 TOI, 48.0 CF%
Potential Suitors
Most contenders don't have the ability to take on $6.8MM in a trade but Arizona has one retention slot left (Oliver Ekman-Larsson and Darcy Kuemper are the two they've used) and with his salary being as low as it is, it's likely that the Coyotes will be open to using that last slot to retain half of the cap hit to help facilitate a move.  Worth noting, Toronto's retention means that Kessel isn't eligible for the double-retention move we've seen some teams make the last couple of seasons but there should still be some interest.
In the East, the Rangers have the cap space to go after Kessel.  While shoring up their bottom six is a priority, adding Kessel would allow them to push someone else down into that lower group which would still serve as an upgrade and he'd be an interesting shooter with Artemi Panarin on the opposite wing.  The Panthers seem to be thinking big but Kessel would work as a fallback option, bolstering what is an already very strong offensive squad.  If the Bruins strike out on some of their targets, a reunion with Kessel would make sense in terms of shoring up their production on the wing but would both sides be open to that?
There are more fits out West.  Like the Rangers, the Predators have ample cap space and someone like Kessel would bolster what has been a middle-of-the-pack attack.  The Wild are basically stuck looking at rentals with their buyout penalties looming large for next season and while they're already one of the highest-scoring teams in the league, they could double down on their strengths and deepen their attack.  The Pacific Division also has some reasonable options.  If Anaheim looks to add, they have ample cap space and could certainly use some extra offensive depth.  The Sharks are currently out but if they can win a few games to get back into the race, they'd be a good fit as well.  The Kings currently have the space right now with their LTIR situation and would benefit from more firepower but their ability to add largely hinges on Alexander Edler's situation.
Likelihood Of A Trade
There probably isn't going to be a significant market for Kessel with the contract and as he is someone that's going to be more of a secondary option than a primary target, it may take a while for it to materialize.  But assuming the acquisition cost winds up in the mid-round pick range, the veteran should be on the move at some point before the deadline.
Photo courtesy of USA Today Sports Images.