Heading into the season, many believed that Nashville Predators winger Filip Forsberg, a pending UFA, would be one of the most coveted players on the in-season trade market. The 27-year-old winger was coming off a season where he battled injuries but still managed to post 12 goals and 32 points in 39 games, leading the Predators to a hard-fought six-game series loss to the Carolina Hurricanes. It was believed by many observers that Nashville's downward trajectory as a team since their 2017-2018 President's Trophy win, combined with Forsberg's age and bouts with inconsistency would keep him from getting a long-term deal in Nashville.
But the play of the Predators so far this season has corrected those preseason observers. John Hynes' squad is 30-18-4 and has a firm grip on the Western Conference's first wild-card spot. With his team in the playoff hunt and Forsberg surging to 26 goals and 44 points in 39 games Predators GM David Poile now has to navigate a difficult situation with his star winger.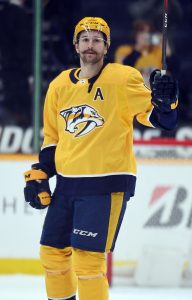 It was reported earlier by Andy Strickland of Bally Sports Midwest that Poile had begun "actively shopping" Forsberg in advance of the trade deadline, and that is certainly one approach he could take with the player. He could also choose to re-sign Forsberg, and in Elliotte Friedman of Sportsnet's 32 Thoughts blog he sheds light on that possibility. Friedman writes that he believes there exists a "will" for both sides to reach an agreement on a contract, and that such a contract's cap hit would likely need to fall between the cap hits of Forsberg's Predators teammates Matt Duchene and Roman Josi. ($8MM and $9.059MM, respectively.)
While he states his belief that the Predators' priority is to re-sign Forsberg, Friedman also notes that Poile's "preference" is to not keep Forsberg beyond the March 21st trade deadline without a long-term contract. Friedman states that it "won't happen" if progress on a long-term deal isn't made, which should intrigue onlooking rival teams. Given Forsberg's form this season and the chronic scarcity of wingers who can drive play at the NHL level, Predators fans should expect a significant return in exchange for Forsberg should the contract negotiations deteriorate to a point where a trade becomes necessary. They should definitely expect a bit more than Martin Erat and Michael Latta, that's for sure.
Photo Courtesy of USA Today Sports Images