In the spirit of the holiday season, PHR will take a look at what teams are thankful for as the season approaches the midway mark. There also might be a few things your team would like down the road. We'll examine what's gone well in the early going and what could improve as the season rolls on for the Toronto Maple Leafs.
What are the Maple Leafs thankful for?
All-Star goaltending.
The last time the Maple Leafs had a goaltender who stopped pucks at a better rate than Jack Campbell has this season, there were only 14 teams in the NHL. In 1970-71, Jacques Plante had a .944 save percentage, winning 24 of his 40 appearances at the age of 42. Since then, no one has really come anywhere close to the .935 save percentage that Campbell has posted through the first 27 games of this season. It's been all the more important because Petr Mrazek has been injured for most of the year, limiting him to just four appearances.
Campbell was one of the goaltenders selected for the All-Star Game yesterday, but you have to wonder whether the Maple Leafs would be better off with him using the time to rest. The 30-year-old netminder has already matched his career-high in starts with 26 and will be relied on heavily as Toronto tries to chase down a divisional playoff spot.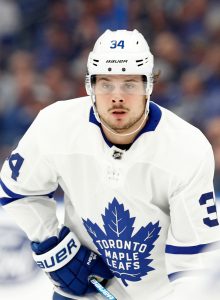 Who are the Maple Leafs thankful for?
While Campbell's play may be the biggest reason for success this season, there's simply no other answer here than Matthews, one of the league's superstars and most marketable icons. Once again in the thick of the league goal-scoring race, Matthews has tallied an incredible 223 goals through the first 366 games of his career. Among players with at least 350 games played, that puts him fifth in goals-per-game at 0.61, even ahead of Wayne Gretzky. Only Mike Bossy, Mario Lemieux, Pavel Bure, and Alex Ovechkin rank ahead of the Maple Leafs star at the moment.
While that number is obviously going to come down when he's at the tail end of his career, that's still way down the road for NHL fans watching a 24-year-old on a nightly basis. Given his ample defensive contributions, there aren't many players in the entire world that can impact a game the way Matthews does. If the Maple Leafs ever win anything, it'll probably be because of him.
What would the Maple Leafs be even more thankful for?
A return to form for Jake Muzzin.
One of the biggest changes this season for the Maple Leafs has been the decline of Muzzin, who went–seemingly over one summer–from a player capable of propping up a partner to one that needs someone else to cover his flaws It's not that he's been terrible, but no longer has he been able to carry a shutdown second pairing and go up against the league's best with positive results. In fact, Muzzin has been on the ice for 29 goals against at five-on-five this season, the most on Toronto and tied for 19th-most among all league defensemen. Part of that is the heavy defensive deployment he's given, but the 32-year-old has also looked a step slower this season, leading to more turnovers and odd-man rush attempts.
What should be on the Maple Leafs' wish list?
A right-shot partner for Muzzin.
That's why the most obvious thing the Maple Leafs need to do is find Muzzin a partner that he no longer has to prop up. Justin Holl benefited greatly from the partnership the last two seasons, but with Muzzin's decline, it's been him that sticks out the most. Overmatched at times and completely lost at others, if the Maple Leafs are going to go anywhere in the playoffs they need to find that elusive top-four, right-shot defenseman that they've been coveting for years.
With Holl now in the COVID protocol, young defenseman Timothy Liljegren will get a look beside Muzzin. If he shows he's not quite ready for that elevated role, Toronto is risking another early playoff exit if they don't address the second pairing.
Photo courtesy of USA Today Sports Images