The COVID announcements are coming fast and furious today, but one is an especially important absence. The Edmonton Oilers have placed Stuart Skinner in the protocol, meaning he won't get another chance to steal the net this week. Edmonton will have to go back to Mikko Koskinen and Ilya Konovalov as Mike Smith remains injured and Alex Stalock is just starting his comeback attempt.
Skinner, 23, was the subject of much frustration over the weekend as he allowed five goals to the Ottawa Senators in a brutal loss for Edmonton. The Oilers entered the third period up 3-1 on the 30th-ranked Senators, but ended up losing 6-4 after a powerplay tally from Josh Norris put Ottawa on top with just a few minutes remaining. While Oilers fans seem mostly willing to give Skinner a pass, for now, the goaltending situation has been a firestorm all season as the team tries to find a way out of their current freefall.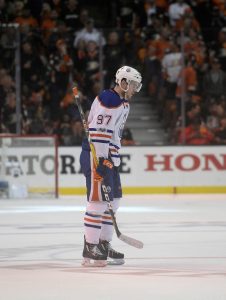 The Oilers are 3-10-2 since the start of December and have allowed at least four goals against in nine of those games. They now are set to welcome in the red-hot Florida Panthers on Thursday, a team that has scored 50 goals in its last eight games (6.25 per game). Koskinen, who hasn't won a game since the first of December, will need to carry the load until Skinner or Smith return.
This morning, Ryan Rishaug of TSN reported that Oilers general manager Ken Holland and his management team are currently in California at pro scouting meetings, and suggests that no "significant change is imminent." Holland explained during a press conference last week that the team can't just burn through coaches, and even suggested that he doesn't necessarily believe in firing a coach midseason. Rishaug notes that those thoughts still hold true, despite head coach Dave Tippett's struggles to find any consistency among the group.
After blowing the third-period lead against Ottawa, captain Connor McDavid was at a loss for words when trying to answer questions from the media. Elliotte Friedman of Sportsnet called it a "thousand-yard stare" from McDavid on today's 32 Thoughts podcast, as the superstar was once again facing reporters after a disappointing loss.
The Oilers have shown obvious interest in signing unrestricted free agent Evander Kane, though his status is unclear due to a new investigation from the league. Kane's addition would certainly bring another offensive piece to the group and Edmonton isn't as far out of the playoffs as they could be, given how poorly teams in the Pacific Division are playing. It's goaltending (and defense) that obviously needs to be answered though, as no Oilers netminder has a save percentage over .907 this season.
Photo courtesy of USA Today Sports Images