As the holiday season approaches, PHR will take a look at what teams are thankful for as the season passes the one-quarter mark. There also might be a few things your team would like down the road. We'll examine what's gone well in the early going and what could improve as the season rolls on for the Columbus Blue Jackets.
What are the Blue Jackets thankful for?
Their future down the middle.
After moving Pierre-Luc Dubois to Winnipeg last season, Columbus' center depth was extremely limited.  However, that changed over the offseason.  Kent Johnson was picked fifth overall in the draft and has been nothing short of stellar at Michigan.  Cole Sillinger went seven picks later and has acquitted himself well while playing a regular role for the Blue Jackets this season.  All of a sudden, the center position went from a significant question mark to a long-term asset almost overnight.  Add Boone Jenner getting locked in on a four-year extension and there's their top three for the foreseeable future.  That's a foundation to build on as they continue to rebuild.
Who are the Blue Jackets thankful for?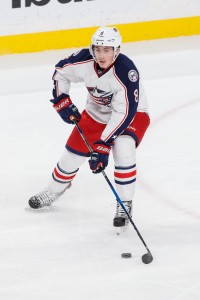 The list of high-end players that have left the organization either through free agency or trade (due to dissension or declining an extension) over the last few years is quite significant.  Werenski could have been the next one to do so.  The top of the market for defensemen increased sharply over the summer and Werenski appeared to be the next one poised to potentially leave.  He could have simply filed for arbitration in July, taken a one-year award, and gone to the open market in 2023.  But he didn't.  Instead, the 24-year-old opted to lock in a six-year extension, ensuring he'll be with Columbus throughout the prime of his career.  He was certainly well compensated for it; he'll have the third-highest AAV of any NHL defender next season.  But other players turned down lucrative money to stay before.  Werenski is the recent exception and they're quite thankful for that.
What would the Blue Jackets be even more thankful for?
Max Domi to stay healthy and productive.
It has been a rocky year for the 26-year-old.  He was left unprotected in expansion and Seattle passed on taking him.  He had shoulder surgery which cost him most of training camp.  Then he fractured some ribs and along the way, caught COVID.  That's not a fun way to start a contract year.  But in between all of that, he has had a decent season with nine points in a dozen games.  If he can stay healthy and keep producing, Domi would become a prominent trade chip heading into the deadline as an intriguing piece that can play down the middle or on the wing.  Another decent prospect or pick wouldn't hurt as they look to stockpile assets.
What should be on the Blue Jackets' Holiday Wish List?
Assuming they fall out of the playoff mix (they're hanging around a Wild Card spot at the moment), picks and prospects will be at the top of GM Jarmo Kekalainen's wish list.  They don't have many notable pieces to sell beyond Domi and backup goalie Joonas Korpisalo (and his start to the season isn't going to have general managers calling to try to get him).  But Columbus has plenty of cap space at their disposal and that could be a way to try to add some of those future assets.  Are they willing to be a third-party facilitator or take a bad contract back to add those assets?  On the other hand, if they happen to still be in the mix by mid-March, they can leverage that cap space to add a piece or two without giving up a significant return.  The Blue Jackets shouldn't be overly busy on the trade front over the coming months but there will be a chance to add to their stockpile.
Photo courtesy of USA Today Sports Images.