This past week will largely be remembered for two things – a bunch of players being placed into COVID protocol and numerous games being postponed.  However, there was some other notable news across the NHL over the past seven days which is highlighted in our key stories of the week.
Labanc Out Long-Term: A tough season for Sharks winger Kevin Labanc has gotten even worse as he will miss the next three months after undergoing surgery to repair a shoulder injury.  The 26-year-old had been off to a particularly rough start offensively with just three goals and three assists in 21 games, marking the third straight season that he hasn't played close to the same pace he had back in 2018-19 when he had 56 points in 82 games, earning himself a four-year, $18.9MM contract in the process.  Labanc will be eligible to be placed on LTIR if San Jose needs to free up cap space although that shouldn't be an issue for them in the short term at least.
Good News To Bad For Spezza: It was an interesting 24 hours or so for Maple Leafs center Jason Spezza.  First, his six-game suspension for a kneeing incident on Winnipeg's Neal Pionk was reduced to four games by NHL Commissioner Gary Bettman on appeal which is an outcome that doesn't happen very often.  That made him eligible to return right away.  However, that good news was quickly tempered as he was placed into COVID protocol less than 24 hours later.  Toronto is among the teams who have had their games postponed through the holiday break.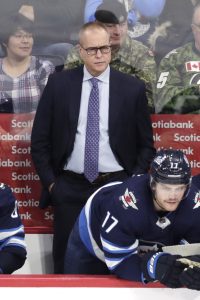 Maurice Resigns: There was a big surprise out of Winnipeg when head coach Paul Maurice suddenly tendered his resignation.  It wasn't related to an off-ice concern, he simply felt he had taken the team as far as he could and that the team would benefit from a new voice.  Maurice also indicated that he had less enjoyment at the rink lately with the various COVID protocols.  The 'new' voice for the Jets is a familiar one with assistant Dave Lowry taking over as interim head coach for the remainder of the season.  Maurice departs with a 315-223-62 record at the helm of the Jets and sits fourth in NHL history in total games coached with 1,684.
More Selling In Arizona? When the Coyotes started selling off their players, the belief was that there was one untouchable in defenseman Jakob Chychrun.  Now, it appears they're at least open to the idea of moving him as well following a report that they're gauging the market on the 23-year-old with a hefty asking price.  Chychrun's numbers aren't the greatest this season – seven points and a league-worst -29 plus/minus rating in 26 games but he's logging significant defensive minutes on one of the worst teams the league has seen in quite some time; the ugly numbers are to be expected.  With a $4.6MM AAV through 2024-25, there will be no shortage of teams interested in acquiring him but will anyone be willing to pay the price?  We'll find out over the months to come.
Fabbri Extension: Red Wings winger Robby Fabbri will be sticking around for the foreseeable future after he agreed to a three-year, $12MM extension.  The deal does not contain any trade protection.  Fabbri is in his third season with Detroit and has been a capable secondary scorer since being acquired, notching 32 goals and 31 assists in 111 games.  If he can stay healthy (and that has been a question mark throughout his career), Fabbri should be able to give the Red Wings a reasonable return on this deal, especially since they're not dealing with any salary cap issues now or in the next few seasons.  Fabbri is one of nine Detroit players that have been in COVID protocol at some point over the past week which has resulted in their games being postponed until after the holiday break.
Photo courtesy of USA Today Sports Images.