In the offseason, the Arizona Coyotes made it clear that they would be going through a full rebuild. They made several moves to take on bad contracts, sold off key players like Oliver Ekman-Larsson, Conor Garland, and Christian Dvorak. The one player that seemed untouchable through all of that was Jakob Chychrun, a 23-year-old top-pairing defenseman signed to a very reasonable $4.6MM cap hit through 2024-25. Chychrun seemed to be embracing the organization and was set to become the one core piece that Coyotes GM Bill Armstrong would build around.
Not so fast.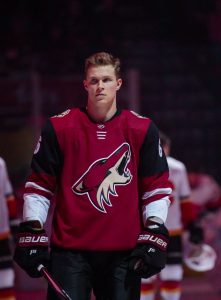 Elliotte Friedman of Sportsnet wrote in his latest 32 Thoughts column that the Coyotes are gauging the market on Chychrun, though the ask is "massive." The insider expanded on that note today on The Jeff Marek Show.
The one thing I asked was 'has there been a trade request?' And I was told in multiple places, the answer to that question was no. However, I do think that the Coyotes know that this isn't easy on Chychrun, this is the prime of his career, and that his value will probably never be higher than it is now. 

They are taking calls, they are gauging it. I've been told the ask is massive. I've also been told although teams admit it's massive, it's not making them run away from him. 
When Friedman asked Armstrong for a comment, he refused to give one at this point.
Like everyone else in Arizona, Chychrun is not having a good season. After scoring 18 goals and 41 points in 56 games last season, finishing tenth in Norris Trophy voting, he has just two goals and seven points in 26 games this time around. He's a -29 on the year, easily the worst in the league (Nick Paul is second-worst with a -15) but much of that is due to the fact that Chychrun is playing huge minutes on a terrible team. He's averaging just under 25 this season, the highest of his career and three more than anyone else on the Coyotes. The players that follow him? Shayne Gostisbehere, who cost the Flyers a draft pick to get rid of, Anton Stralman who cost the Panthers a draft pick to get rid of, and Dysin Mayo, a 25-year-old who is in his first NHL season after years in the minor leagues.
It's easy to see why Chychrun would generate a huge ask, even in a down year. There was a time during the lead-up to the 2016 draft that he was considered a top-three talent, but a so-so draft year in Sarnia eventually made him fall down the board. Selected 16th overall, he ended up as the fifth defenseman off the board (Olli Juolevi, Mikhail Sergachev, Jake Bean, and Charlie McAvoy went ahead of him). His draft year was immediately forgotten when he stepped directly into the NHL though, playing in 68 games for the Coyotes and scoring 20 points as a rookie. He was physical, mobile, and had offensive upside, the prototypical defenseman for today's NHL.
In his sixth year now, and Chychrun has been a pillar on the back end for Arizona, suiting up 316 times. He has 48 goals during that stretch, good for 22nd in the league since he entered it, and appeared to take a significant step forward in 2020-21. Given he won't turn 24 until March and costs just $4.6MM for another three seasons and there's a good argument to be made that he's among the most valuable trade chips in the entire league. The Coyotes, who clearly have a plan in mind for the organization since Armstrong took over, aren't going to just throw away that chip for just any old package.
Photo courtesy of USA Today Sports Images