As the holiday season approaches, PHR will take a look at what teams are thankful for as the season heads towards the one-quarter mark. There also might be a few things your team would like down the road. We'll examine what's gone well in the early going and what could improve as the season rolls on for the Carolina Hurricanes.
What are the Hurricanes most thankful for?
Healthy (and effective) goaltending.
Over the last several seasons, the Hurricanes have been one of the best defensive teams in the league, limiting other teams to some of the lowest shot totals in the NHL. In 2018-19 they ranked third in shots against, in 2019-20 they were second, and in 2020-21 they were eighth. With that kind of effort it would follow that any number of starting goaltenders in the league would be able to find success in Carolina, the only problem has been the health of the ones they actually chose.
Petr Mrazek and James Reimer were good, but not very reliable options for the team, with the former playing just 12 games for them last season despite being the expected starter. This year it's been a different story, at least for Frederik Andersen, who has backstopped the team 15 times in 20 games and looks as sharp as ever. Andersen has a .932 save percentage in those appearances, a number that would be far and away his career high should he maintain it all year. While they did need Alex Lyon to come up for a few days while backup Antti Raanta dealt with a minor injury, the starters role has been locked in so far. That certainly wasn't a guarantee before the year started, so you can imagine how thankful head coach Rod Brind'Amour is through the first two months.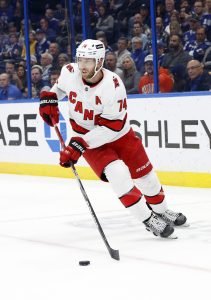 Who are the Hurricanes most thankful for?
The biggest reason for that outstanding defensive play is Slavin, who is an all-situations superstar for the Hurricanes–even if he doesn't get quite as much press as some of his flashier counterparts around the league. There are 58 defensemen who have played more at even-strength so far this season, but just six of them own a better goals-for percentage during those minutes. Among those who have played at least 350 minutes, he ranks 11th in the entire league with 22 goals scored and just 14 against. His possession stats during that even-strength ice time put him in the top-five in the league, but that's not at all where his contribution ends for the Hurricanes.
There is no player, forward or defenseman, who has logged more short-handed ice time this season than Slavin, who averages nearly four minutes a game on the penalty kill. The Hurricanes have taken more penalties than anyone else in the league this year, allowing 79 powerplays against in 20 games. Despite all that time though, he's been on the ice for just three powerplay goals against, an incredible statistic that is the biggest reason why the Hurricanes penalty kill is ranked third in the league–and why their penchant for penalties hasn't killed their record.
What would the Hurricanes be even more thankful for?
A return on their offer sheet investment.
No one expected Jesperi Kotkaniemi to be worth $6.1MM this season, but when the Hurricanes signed him to an offer sheet worth that much, essentially buying him off the Montreal Canadiens, there was still hope he could become at least a regular contributor. Instead, Kotkaneimi has moved further and further down the lineup, seeing less than ten minutes of action in four of his last eight games. Through the first month of the season he had just three points, certainly not acceptable for a player making that much on a contending team.
The bounces have turned for him the last few nights, with two goals and three points in his last two games, but that will have to become a trend for this move to seem like a successful one. Remember, not only are the Hurricanes paying Kotkaniemi much more than he's worth this year, but they also gave up first and third-round picks to get him.
What should be on the Hurricanes' Holiday Wish List?
A top-six winger.
There's really not that much the Hurricanes need. They're deep up front with four lines that can all compete, have one of the best defensive groups in the NHL (at least when three of them aren't on the COVID list) and have two goaltenders that have both shown the ability to play as above-average starters. The only real question mark is 19-year-old Seth Jarvis, who is expected to once again be in the top-six tonight next to Andrei Svechnikov and Vincent Trocheck.
It's not that Jarvis lacks the talent to play there; the 2020 first-round pick is going to be in the Hurricanes lineup for years to come. But after some flashes of inconsistency, it may be prudent to go get another winger for that spot before the playoffs. The NHL season is a long grind, and though the bottom-six for the Hurricanes is a strong group, they're not loaded with goal-scoring talent. If Jarvis has any signs of slowing down, adding another top-six option on an expiring contract might be the best way to go.
Photo courtesy of USA Today Sports Images