Though he hasn't played since 2018, Marian Gaborik has finally announced his retirement. His final NHL contract expired at the end of the 2020-21 season, officially as a member of the Tampa Bay Lightning, though he never came close to playing for them.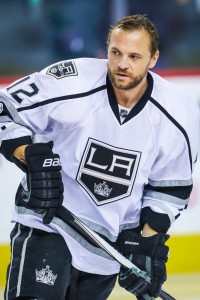 Gaborik holds the record as the highest-drafted Slovak in history, selected third overall by the Minnesota Wild in 2000. The team's first draft choice was a good one, as he not only would score the first goal in Wild history but go on to rack up 218 more for the organization. A star almost from the moment he hit an NHL ice surface, Gaborik was a five-time 30-goal scorer for Minnesota, reaching a career-high of 42 in 2007-08. After is 500+ games with an expansion team, he would end up with the New York Rangers, where he cracked the 40-goal mark twice more before entering the back half of his career.
In 2014 with the Los Angeles Kings, Gaborik led all players in playoff goals with 14 en route to securing the Stanley Cup. While he would play for a few more years, he'd never reach that kind of goal-scoring prowess again.
Overall, Gaborik suited up for 1,035 regular season games and ends his career with 407 goals and 815 points. He is the all-time goals leader in Minnesota history, ranks fourth in points among all Slovakian NHL players (Peter Stastny, Marian Hossa, and Peter Bondra are ahead of him), and ranks 95th all-time in goals scored for the entire NHL. In his prime, there were few players more feared than Gaborik, able to score in countless different ways and from all angles of the offensive zone. His two-step acceleration was as strong as anyone in the league, and there's a good chance he would have found success today even as the league continues to get faster and more mobile.
Photo courtesy of USA Today Sports Images