When a player approaches unrestricted free agency, there are many things for him to consider when it comes to where his hockey journey will continue. Market, team strength, coaching staff, and potential linemates are all considered, which sometimes leads to a (small) haircut or a (not as small) overpay in terms of overall salary. When a player is approaching restricted free agency, things are a bit different.
While technically there are options for an RFA to play overseas or chase down an offer sheet to change markets, in practice it's basically only negotiating with one team. That means many of those factors disappear, and the biggest thing brought up in negotiations is contract comparables.
On Friday, the Boston Bruins signed Charlie McAvoy to a massive eight-year, $76MM contract extension that kicks in after his short-term bridge deal expires next summer. That negotiation had a direct comparable to work from; Zach Werenski, also heading into the final season of his bridge deal, signed a six-year $57.5MM deal earlier this summer. Among the other recent contracts that were likely considered were Cale Makar's six-year, $54MM extension, Miro Heiskanen's eight-year, $67.6MM deal, and even Quinn Hughes' six-year $47.1MM agreement signed just a few weeks ago. The massive deals for Seth Jones, Darnell Nurse, and Dougie Hamilton are all buying out UFA years, so aren't quite as important when it comes to young defensemen who are still in their RFA seasons.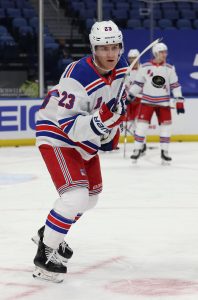 Almost before the ink was dry on McAvoy's deal, hockey fans and writers were all looking around for who his deal will impact the most when the next round of negotiations come up. The answer may be Adam Fox who is currently eligible for an extension and will be an RFA for the first time next summer.
There's no doubt about it, the Rangers are going to have to pay up for the reigning Norris Trophy winner. On Sportsnet radio yesterday, Elliotte Friedman expressed as much:
I think it's a massive number. I think the Rangers know it's going to be a massive number, and they'll get it done. Will it be the biggest contract by a defenseman? It sure could be. The Rangers have to be looking at these guys around $9.5MM (AAV) and going 'that might not cut it here.'
While Friedman doesn't suggest he has any information on the status of the negotiations between Fox and the Rangers, he's not the only one wondering about the defensemen's next contract. Mollie Walker of the New York Post writes about Fox's great start—a goal and an assist in the first two games of the season while logging more than 23 minutes in each–including how it will affect his next deal. Colin Stephenson of Newsday wonders if it's possible to get a "hometown discount" from the Jericho, New York native, in order to allow the Rangers to assemble a strong supporting cast. Finally, Adam Kennedy of The Hockey News wonders aloud what everyone is thinking, in his column headlined "Is Adam Fox Worth $10 Million Per Season?"
Of the 14 players who carry a cap hit of at least $10MM next season, just two of them are defensemen. Erik Karlsson, the league's highest-paid defender, signed his eight-year, $92MM just before hitting unrestricted free agency. Drew Doughty's eight-year, $88MM deal also bought out only UFA years. To this point in the cap era, no defenseman has crossed the $10MM per season threshold on their second contract, as forwards Connor McDavid, Auston Matthews, and Mitch Marner have.
If Fox is the first, it will also make the Rangers the fifth team in the league to carry at least two $10MM+ contracts simultaneously (the Florida Panthers will become the fourth when Aleksander Barkov's extension kicks in next season, joining Sergei Bobrovsky). Not only that, but they also have Mika Zibanejad and Jacob Trouba combining for $16.5MM.
There's certainly no guarantee he does eclipse that mark, and any discussion of it assumes that he is signing a long-term deal with New York. But things will certainly get tricky when it comes to a salary cap that is only expected to jump $1MM per year until 2025. Whatever it ends up being, there's a good chance any future defenseman will have a new upper-limit comparable to work from when their own negotiations come around down the road.
Photo courtesy of USA Today Sports Images