It was a busy week in the hockey world both on and off the ice.  Away from the rink, the results of the John Doe (later revealed to be Kyle Beach) sexual assault investigation were made public with some significant departures coming soon after.  Meanwhile, there were some notable injuries and extensions as well which are all highlighted in the top stories of the week.
Changes In Chicago: The aforementioned investigation showed that Blackhawks executives Stan Bowman and Al MacIsaac were aware of what happened having been part of a seven-executive meeting to discuss it.  At the time the results of the investigation were released, it was announced that Bowman (who had been one of the longer-tenured GMs in the league) and MacIsaac (Senior VP of Hockey Operations) were no longer with the organization; Bowman officially stepped aside.  Soon after, it was revealed that he stepped aside from his GM role with USA Hockey for the upcoming Olympics as well.  Kyle Davidson has assumed the interim GM duties for the Blackhawks.
Coaching Change In Florida: Also in that meeting was then-head coach Joel Quenneville.  He had since moved onto Florida and while he was behind the bench for the Panthers for the first game after the report came out, it would be his last as he resigned soon after a meeting with Commissioner Gary Bettman.  Assistant Andrew Brunette has taken over on an interim basis while a search is underway to find their next bench boss.  Meanwhile, Jets GM Kevin Cheveldayoff, who was part of that meeting as well, will not be disciplined by the NHL.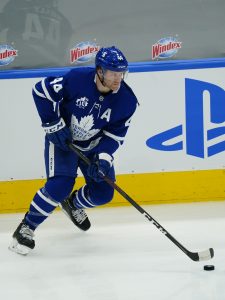 Rielly Sticks Around: One of the questions for the Maple Leafs heading into training camp was whether or not they'd be able to afford an extension for defenseman Morgan Rielly and still have their four forwards that take up roughly half the salary cap on their books.  It appears they're going to try to do just that as Toronto inked the blueliner to an eight-year, $60MM extension.  The $7.5MM AAV means that they will have roughly $48MM tied up in just five players for next season which will be tricky to navigate.  However, the core of their back end is also now intact for a little while as Rielly, Jake Muzzin, and T.J. Brodie are all signed through 2023-24 which should give them some stability on that front.
Kucherov Out Again: Nikita Kucherov is back on LTIR once again as he will miss eight to ten weeks after undergoing a successful procedure to repair an undisclosed leg injury.  Kucherov notably missed all of last season with a hip issue before returning to help lead Tampa Bay to their second straight Stanley Cup with the team being able to spend his $9.5MM AAV on replacements to bolster their roster.  With Kucherov expected to return later this season, that won't be the case this time around as they'll need to get back to cap compliance to activate him.  The 28-year-old had a goal and three assists in three games before suffering the injury.
Banged Up Kings: Los Angeles is a little shorthanded on the back end now with two of their top defenders out long term.  Drew Doughty, their top blueliner, won't skate for six weeks with the hope that he'll be able to return at the end of December.  Meanwhile, Sean Walker, one of their other right-shot rearguards, is out for the season after tearing his ACL and MCL.  Both players are eligible to go on LTIR and in Walker's case, they'll be able to spend his $2.65MM AAV to try to add a replacement, a search that has already begun.
Photo courtesy of USA Today Sports Images.