Navigating the salary cap is one of the more important tasks for any GM.  Teams that can avoid total cap chaos by walking the tightrope of inking players to deals that match their value (or compensate for future value without breaking the bank) remain successful.  Those that don't see struggles and front office changes.
PHR will look at every NHL team and give a thorough look at their cap situation heading into the 2021-22 season.  This will focus more on players who are regulars on the roster versus those who may find themselves shuttling between the AHL and NHL.  All cap figures are courtesy of CapFriendly.
Vegas Golden Knights
Current Cap Hit: $81,537,439 (over the $81.5MM Upper Limit)
Entry-Level Contracts
F Peyton Krebs ($863K through 2023-24)
Potential Bonuses: $412.5K
Krebs, a 2019 first-rounder, got a brief NHL look late last season and held his own.  He may have to wait to get a look this coming season – there will be roster limitations again when everyone is healthy – but if their summer acquisitions to bolster their center depth don't pan out as hoped, Krebs should get a legitimate opportunity soon after.
One Year Remaining, Non-Entry-Level
F Sven Baertschi ($750K, UFA)
D Jake Bischoff ($717K, UFA)
D Nicolas Hague ($792K, RFA)
F Brett Howden ($885K, RFA)
F Mattias Janmark ($2MM, UFA)
F Keegan Kolesar ($725K, RFA)
D Brayden McNabb ($2.5MM, UFA)
F Nicolas Roy ($750K, RFA)
F Reilly Smith ($5MM, UFA)
D Zach Whitecloud ($725K, RFA)
Smith has been a fixture in Vegas' top six for the past four seasons but saw his production drop off considerably last season.  His first three years provided good value for the Golden Knights but a similar showing in 2021-22 could result in his market value taking a dip.  As it stands, they may have a hard time being able to retain Smith beyond this contract.  Janmark was a surprise re-signing in that he was expected to get more elsewhere but instead, he opted to take a below-market deal to stay with Vegas.  If Smith does leave, Janmark could be one of the beneficiaries with some of that money going to him for 2022-23 and beyond.  Roy stepped into a bigger role last season and could double his current AAV next summer with a similar showing due to his arbitration rights while Howden, another center in that mix, will need to play closer to his first two seasons if he wants any kind of sizable raise.  Kolesar and Baertschi are both low-cost roster pieces and Vegas will need to have a few of those beyond this season whether it's them or someone else.
McNabb is the only defenseman remaining in Vegas that was directly selected in expansion (not a related side deal).  He doesn't put up the offensive numbers to command top dollar but solid stay-at-home blueliners have checked in over $3.5MM in recent years.  That's certainly achievable if he makes it to the open market.  Hague had a nice first full NHL season on the third pairing but with their depth and cap situation, he's probably in a similar role this coming season and looking at a cheap one-year deal next summer to preserve short-term flexibility.  Whitecloud isn't as established but unlike Hague, will at least have arbitration rights in the offseason to help him in negotiations where he could push to double his AAV.  Bischoff is tied for the lowest AAV in the entire league which will have him in the mix at times as well.
Two Years Remaining
G Laurent Brossoit ($2.325MM, UFA)
F Evgenii Dadonov ($5MM, UFA)
F Max Pacioretty ($7MM, UFA)
Pacioretty eclipsed the point per game mark for the first time in his career last season while leading the Golden Knights in goals for the second straight season.  As long as that's happening, they'll be happy with his contract.  Dadonov was one of the more puzzling trades of the summer.  Yes, he has helped on the power play in the past which is an area of concern but them using a big chunk of their cap space from the Marc-Andre Fleury trade on a winger who struggled last season is certainly a bit of a risk.
Brossoit has had two strong seasons out of the last three but in the middle was a particularly tough showing.  In all three, playing time was limited; his career-high in games played in a single season is only 21.  That led to him landing a cheaper deal than more proven backups which was necessary for cap reasons but this is going to put a lot more pressure on their starter in the process.  If Brossoit picks up where he left off in Winnipeg and can play a few more games though, he's still young enough (28) to land a bigger deal two years from now.
Three Years Remaining
F William Carrier ($1.4MM, UFA)
F Jonathan Marchessault ($5MM, UFA)
D Alec Martinez ($5.35MM, UFA)
F Chandler Stephenson ($2.75MM, UFA)
Marchessault has more than proven that his breakout year in Florida was no fluke as he has been a key piece of their attack for all four seasons.  That price tag for someone playing at greater than a 50-point pace is a pretty good return.  It's not quite as good of one as having a top-six center making third line money which is what they have in Stephenson.  Leaving Washington has allowed him to become a reliable two-way second liner and a core player for them in the process whose absence in the Stanley Cup Semifinal was felt.  Carrier doesn't produce a lot but is an effective role player with plenty of sandpaper and those are the fourth liners that often get paid in free agency.  They could fill that spot with someone cheaper if they had to but Carrier brings an element few others up front do for Vegas.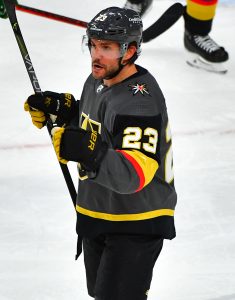 Had he made it to the open market, Martinez would have been arguably the most sought after blueliner (knowing that Dougie Hamilton's price inherently limited his legitimate suitors) but he opted to pass on the opportunity to command a bigger deal in both price and term to stick around with Vegas.  He's not a number one defender but slides nicely into a second or third role depending on his pairing and in either slot, he's likely to provide strong value.  Considering his next contract will come in his age-37 season, a dip in pay will be coming at that time.
Four Or More Years Remaining
F William Karlsson ($5.9MM through 2026-27)
G Robin Lehner ($5MM through 2024-25)
D Alex Pietrangelo ($8.8MM through 2026-27)
F Mark Stone ($9.5MM through 2026-27)
D Shea Theodore ($5.2MM through 2024-25)
F Alex Tuch ($4.75MM through 2025-26)
Stone has shown more of an offensive touch the last few seasons which, coupled with his elite defensive game, makes him one of the premier two-way forwards in the league.  It's hard to call a $9.5MM contract a bargain but for what he's able to do, it's certainly not an overpayment either.  Karlsson hasn't come close to matching his production from his first year with the Golden Knights but has been a quality top-six center since then and as contracts for that position continue to escalate quickly, having him locked in is a good thing.  Tuch's inconsistency has limited him to more of a secondary role throughout his career but the skill and size are there to make him a consistent impact player and if that happens, his deal will quickly become a bargain.
Pietrangelo came as advertised as a legitimate number one blueliner and now finds himself on a cheaper contract than others in that role have signed in recent months.  It's hard to find value in many high-priced deals but if the escalating salaries continue, that could very well happen.  There is definitely value in Theodore's contract as he has continually improved to the point where it could be argued that he is a number one in his own right (though Pietrangelo logs the most minutes).  Having him signed for four more years making the type of money that some number three defenders get is a significant bargain.
Lehner was limited due to injury last season plus Fleury's strong season but now he comes in as the undisputed starter and will be counted on to play a considerably heavier workload than he's accustomed to.  He has shown flashes of being a higher-end starter and if he can provide that for the Golden Knights, he'll be another high-value contract on their books.
Buyouts
None
Retained Salary Transactions
None
Still To Sign
D Dylan Coghlan
F Nolan Patrick
Patrick was acquired in a swap of young underachieving centers with Cody Glass going the other way.  He was able to return last season after missing all of 2019-20 due to the pandemic but struggled.  That's going to limit his earnings upside here and he's likely only looking at a one-year deal once again.  As for Coghlan, he held his own in a reserve role last season while getting into 29 games.  That's not enough for him to command much of a raise and the delay to this point may be more of trying to sort out the two-way portion of his next deal than haggling over NHL money.
Best Value: Theodore
Worst Value: Dadonov
Looking Ahead
Tuch's LTIR placement to start the season will actually allow Vegas to afford to carry a full roster, meaning that they won't need to be playing games below the maximum player lineup as they did on multiple occasions last season.  But when Tuch comes back (and assuming no one else is on LTIR by then), the cap crunch will return where they will be basically limited to carrying a minimum-sized roster and be susceptible to day-to-day injuries that force them below 18 skaters on game day.  GM Kelly McCrimmon is clearly comfortable with this situation as he opted to go this tight to the Upper Limit after seeing what happened last season and while that carries some risk, he has a pretty strong roster once again.
Beyond next season, it's going to be more of the same for 2022-23.  Yes, they have about $14MM coming off the books next summer but have half of a defense corps to re-sign plus a forward or two so that money will be spent quickly.  Depending on what happens with Pacioretty and Dadonov, that could be an opportunity for Vegas to reshape their roster a little bit but even if they did that, they'd still be tight to the cap.  Get used to that being the case for the Golden Knights as it's not about to change anytime soon.
Photo courtesy of USA Today Sports Images.