Navigating the salary cap is one of the more important tasks for any GM.  Teams that can avoid total cap chaos by walking the tightrope of inking players to deals that match their value (or compensate for future value without breaking the bank) remain successful.  Those that don't see struggles and front office changes.
PHR will look at every NHL team and give a thorough look at their cap situation heading into the 2021-22 season.  This will focus more on players who are regulars on the roster versus those who may find themselves shuttling between the AHL and NHL.  All cap figures are courtesy of CapFriendly.
Tampa Bay Lightning
Current Cap Hit: $88,365,955 (over the $81.5MM Upper Limit)
Entry-Level Contracts
None projected to play with some regularity at the NHL level this coming season.
One Year Remaining, Non-Entry-Level
G Brian Elliott ($900K, UFA)
F Mathieu Joseph ($737.5K, RFA)
F Pat Maroon ($900K, UFA)
F Ondrej Palat ($5.3MM, UFA)
D Jan Rutta ($1.3MM, UFA)
After a few quieter years, Palat had a strong bounce-back campaign in 2020-21, finishing second in team scoring and producing at a top-line rate for the first time in a while.  That made him a viable candidate for Seattle to pick in expansion although they opted for Yanni Gourde instead.  Palat will be 31 when he signs his next deal which means a long-term pact is likely off the table but a medium-term one around this is likely.  If he wants to stick around, GM Julien BriseBois may push for something a little lower.  Maroon has signed for cheap the last few years and as long as he has a chance to win, he'll probably keep taking those types of contracts.  If not, that spot will be filled by someone else willing to play for close to the minimum.  Joseph stands out as a viable offer sheet candidate next summer; assuming he has a good season, it's unlikely they'll be able to afford to keep him and re-sign Palat.  If a team thinks he's worthy of a bigger role and wants to pay him for it, that could put the Lightning in a bit of a bind.
Rutta has been a serviceable player on the third pairing since joining them in 2019 and if that continues, he could be in line for a small raise.  That said, this feels like a spot for Tampa to try to go a little cheaper to free up some flexibility.
Last year was a tough one for Elliott in Philadelphia which significantly hurt his value heading into free agency.  That, combined with Tampa Bay needing a cheap replacement for Curtis McElhinney, made for a good combination here.  At this stage of his career, he'll be going year-to-year on his next contracts so how he fares this season will determine if he has a chance of getting back towards that higher echelon of backups in terms of salary.
Two Years Remaining
F Pierre-Edouard Bellemare ($1MM, UFA)
D Erik Cernak ($2.95MM, RFA)
F Anthony Cirelli ($4.8MM, RFA)
F Ross Colton ($1.125MM, RFA)
D Cal Foote ($850K, RFA)
F Alex Killorn ($4.45MM, UFA)
F Corey Perry ($1MM, UFA)
D Mikhail Sergachev ($4.8MM, RFA)
Things may not have looked too bad after the last group but that starts to change here with several young players expiring after this time.  Cirelli is coming off a quiet year but produced at a much better level the previous two seasons.  Even if not, his qualifying offer will check in at $5.76MM (120% of his AAV) so a raise is coming.  Killorn has been a reliable secondary scorer for several years but with the RFAs on this list, it certainly looks like their raises will squeeze him out; with prices for secondary scoring dropping a bit lately, Killorn may be looking at a small dip if he continues to hover around the 40-point mark.  Colton is in line for a bigger role next season following a strong showing in the playoffs which likely has him on a trajectory for a bigger deal as well.  Perry and Bellemare are quality veterans who can anchor the fourth line or move up in a pinch; both likely left money on the table to go to the Lightning which is something that can be said for quite a few others on their team.
Sergachev has established himself as a quality piece on the second pairing and at 23, there's still room for growth.  He's on the same contract as Cirelli so a higher qualifying offer will be coming in the 2023 offseason and likely a bigger deal than that.  Cernak doesn't light up the scoresheet but as a top-four right-shot defender, he's going to be in line for a significant raise beyond his $3.54MM qualifier as well.  If Foote is able to establish himself as a full-time player by the time his deal is up, doubling his AAV or more isn't out of the question either.  Big raises are coming from this group.
Three Years Remaining
F Alex Barre-Boulet ($758K, UFA)
D Zach Bogosian ($850K, UFA)
D Brent Seabrook ($6.875MM, UFA)
F Steven Stamkos ($8.5MM, UFA)
Stamkos is going to be one of the more interesting contracts for Tampa Bay to handle.  He'll be 34 when it starts so he should still have a few good years left in him but with the anticipated higher costs from their RFAs in the last group, it's quite difficult to see them being able to afford a market-value contract for their captain unless there's a significant contract moved out by then.  Injuries have limited his usefulness lately and if that trend continues, his value will dip considerably.  Barre-Boulet isn't too established at the NHL level yet but he has scored in junior and in the minors and won't need to do much to live up to a near-minimum contract.  Assuming he produces – a reasonable one to make – this could be a nice value contract for them.
Bogosian also should be a value contract but is on the opposite side of his career.  He could have gotten more elsewhere or even going year-to-year but opted for some stability with a chance to win.
Seabrook was acquired as part of the Tyler Johnson trade but his playing days are already over.  He'll return to LTIR next season.
Four Or More Years Remaining
D Victor Hedman ($7.875MM through 2024-25)
F Nikita Kucherov ($9.5MM through 2026-27)
D Ryan McDonagh ($6.75MM through 2025-26)
F Brayden Point ($6.75MM in 2021-22, $9.5MM from 2022-23 through 2029-30)
G Andrei Vasilevskiy ($9.5MM through 2027-28)
Kucherov is an elite point producer on a contract that is lower than some of the top ones handed out to top wingers on the open market.  As long as the hip issue that cost him all of last season is gone – his playoff performance suggested it was – this will be a bargain as far as high-end contracts go.  Point's bridge deal is very much a bargain for a bona fide number one center and even his next contract should be viewed as a below-market one relative to what other top centers can get.  Both of these deals are pricey but Tampa Bay should get good returns on each of them.
They've had a great return on Hedman's contract so far.  He has provided Norris-caliber defending in each of the first four seasons of the deal and there's little reason to expect that to change anytime soon.  Considering the value in which lower-end number ones were paid this summer and the pricier deals for veterans before that, Hedman's contract is several million below market value.  McDonagh has become more of a complementary defender the last couple of seasons as Cernak and Sergachev have taken on bigger roles which has made McDonagh more of a luxury.  At some point, it may not be one they're able to afford but for now, he rounds out a very strong top four on the back end.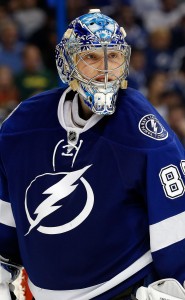 Vasilevskiy is the third-highest-paid goalie in the league behind Montreal's Carey Price and Florida's Sergei Bobrovsky and is $4.5MM ahead of the median AAV among starters at a time where teams are opting more towards lower-cost tandems.  And yet, you'd be hard-pressed to find anyone inside the organization that isn't happy with his contract.  His showing in the playoffs – out-dueling Price in the Stanley Cup Final – cemented his status as the best in the game and at 27, it's a mantle he can hold for several more years.  They'll have to keep going with cheap backups for years to come but that's a small price to pay to get this level of goaltending.
Buyouts
F Vincent Lecavalier ($1.762MM through 2026-27; $0 cap hit as it was a compliance buyout in 2013)
Retained Salary Transactions
None
Still To Sign
None
Best Value: Hedman
Worst Value: McDonagh
Looking Ahead
It'll be same old, same old for the Lightning in 2021-22 as they'll be tight to the cap, even with the LTIR relief from Seabrook.  That isn't going away anytime soon.  Next summer could be a bit of a quieter one from the standpoint of veterans moving on with Palat being the only notable expiring contract and it's possible that they can create enough wiggle room elsewhere to bring him back.
The 2022-23 summer will be the one to watch for as some big raises are on the horizon for their restricted free agents and some veterans will need to be jettisoned at that time for those contracts to be signed.  But that's still a couple of years away and between now and then, there may be a bit more stability than we've seen the last couple of offseasons.
Photo courtesy of USA Today Sports Images.