Navigating the salary cap is one of the more important tasks for any GM.  Teams that can avoid total cap chaos by walking the tightrope of inking players to deals that match their value (or compensate for future value without breaking the bank) remain successful.  Those that don't see struggles and front office changes.
PHR will look at every NHL team and give a thorough look at their cap situation heading into the 2021-22 season.  This will focus more on players who are regulars on the roster versus those who may find themselves shuttling between the AHL and NHL.  All cap figures are courtesy of CapFriendly.
Seattle Kraken
Current Cap Hit: $73,106,666 (under the $81.5MM Upper Limit)
Entry-Level Contracts
None projected to play a full-time role in the NHL this coming season.
One Year Remaining, Non-Entry-Level
F Mason Appleton ($900K, RFA)
F Colin Blackwell ($725K, UFA)
D Dennis Cholowski ($900K, RFA)
F Ryan Donato ($750K, RFA)
D Cale Fleury ($750K, RFA)
D Haydn Fleury ($1.4MM, UFA)
F Morgan Geekie ($750K, RFA)
D Mark Giordano ($6.75MM, UFA)
D Jeremy Lauzon ($825K, RFA)
F Kole Lind ($874K, RFA)
F Calle Jarnkrok ($2MM, UFA)
F Marcus Johansson ($1.5MM, UFA)
F Jared McCann ($2.94MM, RFA)
F Riley Sheahan ($850K, UFA)
F Carsen Twarynski ($750K, RFA)
McCann has shown flashes of being an above-average contributor in the past but hasn't been able to do so consistently.  He'll get the chance to play a bigger role with Seattle and if it all comes together, he could be in line for a sizable pay bump next year.  Jarnkrok has been on a bargain deal for the last five years and will also get to play a bigger role with a shot at bumping up his numbers before hitting the open market.  Johansson and Sheahan are both coming off quiet years and have seen their value dip lately and will need stronger seasons to land guaranteed deals next summer.  Appleton is coming off a strong season with Winnipeg and is already looking like a candidate to more than double his AAV next summer.  A similar performance this season could triple it.  Donato had to settle for a minimum contract after a tough year in San Jose but should be able to rebuild his value with the Kraken somewhat.  Blackwell had a breakout year with the Rangers and is a candidate for a big jump in salary next summer.  Geekie, Lind, and Twarynski will also be battling for depth roles but if they land a roster spot, it's unlikely they'll be able to land a big raise as they'd be in a limited role.
Giordano – who turns 38 next month – is nearing the end of his career but is still a capable top-four blueliner.  He's going to get an opportunity to play a bigger role than he probably should and he's a candidate to be moved at the trade deadline to a contender who can cut his ice time.  He'll be going year to year from here on out and while his next deal will be cheaper than this, he could still command an AAV in the $5MM range.  The Fleury brothers are at different stages of their careers.  Haydn played close to the full season in 2020-21 and should be able to land a small raise a year from now while Cale was in the minors last season and is merely looking to stick on the roster.  A limited role is likely which will yield a cheap deal next summer.  Lauzon did well in Boston last year in his first stint of regular duty and with arbitration rights, he could double his current AAV next summer.  Cholowski's AAV is a little high for someone who may be on the fringes of making the roster but that may be by design in order to try to help sneak him through waivers next month.
Two Years Remaining
F Nathan Bastian ($825K, RFA)
D William Borgen ($900K, RFA)
F Joonas Donskoi ($3.9MM, UFA)
D Vince Dunn ($4MM, RFA)
D Carson Soucy ($2.75MM, UFA)
Donskoi hasn't had a lot of consistent top-six opportunities but has surpassed the 30-point mark in each of the last four seasons.  His price tag is a little high for his level of production but with a bigger role in Seattle, that could change.  Bastian has basically just been an energy player in the early stages of his career and as long as he can hold down a spot on the roster, they won't have any issues with his price tag.  Gritty energy players can still land a pretty good payday as long as they can put up some production which is something Bastian will have to work on.
Dunn's offensive production landed him a big raise this summer and it's telling that Seattle opted for basically a second bridge contract to get one more opportunity to work out a long-term deal before he becomes UFA-eligible.  He's going to get the opportunity for a bigger role than he had with the Blues and if he can establish himself as a top-pairing player, that next deal could be quite a pricey one.  Soucy is a serviceable third-pairing defenseman making a bit much for that role but Seattle has ample cap space to afford the small overpayment in the short term.  Borgen is merely looking to establish himself as a regular NHL player so his next contract shouldn't be much higher than this one unless he winds up in a big role fairly quickly.
Three Years Remaining
G Chris Driedger ($3.5MM, UFA)
F Jordan Eberle ($5.5MM, UFA)
F Alexander Wennberg ($4.5MM, UFA)
Eberle isn't the top-line winger that he was in his prime but he's still a fairly consistent secondary scorer.  He's going to be asked to do more than that in Seattle which could give him a chance to crack the 20-goal mark again, something he was on pace to do the last two shortened seasons.  If he gets there, it may not be a bargain contract but they'll get a reasonable return.  Wennberg's contract showed how difficult it is to land impact centers in free agency.  He did well with Florida last season but was bought out by Columbus the year before after struggling in a top-six role and has only reached double-digit goals twice in his career.  He's going to have a big role with the Kraken and this is a contract that certainly carries some risk.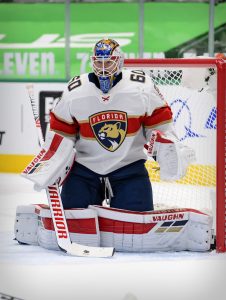 Driedger is one of the more impressive success stories in recent years.  After bouncing around the minors, he finally got an opportunity with the Panthers and quickly became one of the better backups in the league.  But with the late start, his track record is minimal – just 41 career NHL appearances and that includes playoff action.  Landing a three-year commitment towards the upper echelon of price tags for a backup goaltender was pretty good, especially when it looked like he might be the starter.  Of course, that changed early in free agency but Driedger should be able to still play enough games to justify the small premium for a backup netminder.
Four Or More Years Remaining
F Yanni Gourde ($5.167MM through 2024-25)
G Philipp Grubauer ($5.9MM through 2026-27)
D Adam Larsson ($4MM through 2024-25)
D Jamie Oleksiak ($4.6MM through 2025-26)
F Jaden Schwartz ($5.5MM through 2025-26)
F Brandon Tanev ($3.5MM through 2024-25)
Schwartz is coming off a tough season with the Blues but he received that money with the expectation that he'll get back to the level of play before that where he was a capable and consistent top-six forward.  He's one of only a few players who have seen top-line duty and he'll have that role in Seattle so there will be a chance for him to live up to the deal.  Gourde played an instrumental role for the Lightning in their two Stanley Cup titles but did so in a bottom-six spot.  He won't be in that role with the Kraken and should be their top center when healthy.  Can he produce in a top role?  If so, this could become quite a bargain in a hurry.  Tanev is on a premium deal for someone who has been a grinder for most of his career but he has provided some production over the last three seasons to help justify the price tag.
Oleksiak earned a spot in Dallas' top four for the first time last season and made the most of it, blowing past his previous high in average ice time while also setting a career-best in goals.  However, this deal was above market value from the moment it was signed and giving that much in term and money to someone who has predominantly been on the third line carries some risk.  Clearly, they think he can be a top-four piece moving forward and if that happens, they'll get some return out of this contract.  Larsson hasn't lived up to his draft billing (fourth overall in 2011) but he has become a quality shutdown defender.  Had he reached the open market and not signed in the expansion window, he'd have landed a similar deal elsewhere.
Grubauer joining Seattle was somewhat of a surprise but it's a good fit.  He was one of the top goalies in the league last season which gave him plenty of leverage on the open market.  Whether he can carry the full workload of a starter remains to be seen – his career-high in games played came last season with 40 – which is where having Driedger on a higher-priced backup deal works as a quality, albeit largely unproven, insurance policy.
Buyouts
None (they weren't allowed to buy anyone out this year)
Retained Salary Transactions
None
Still To Sign
None
Best Value: Jarnkrok
Worst Value: Oleksiak
Looking Ahead
With spending as little as they did in expansion, Seattle had plenty of cap space to use this summer and they opted to exclusively do so in free agency over taking on a contract or two in exchange for other assets.  That's a decision that drew some ire right away but we'll see over time if it was the right one.  They have ample cap space this season and that shouldn't change for a little while.
Some of their longer-term commitments could become poor value deals at some point but as long as they don't spend to the Upper Limit right away – it doesn't look like that's the plan – then it shouldn't be an issue even if some of those players underperform.  As far as cap situations go, theirs is pretty clean.
Photo courtesy of USA Today Sports Images.