Elias Pettersson burst onto the scene in 2018-19, immediately becoming a top-line player on the Canucks.  He has been a fixture in that role since then, putting him in line for a substantial raise once he signs his second contract which should be at some point over the next few weeks with training camps fast approaching.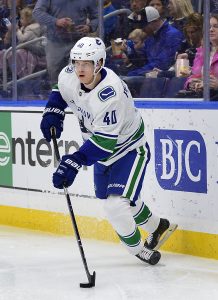 Drafted as a center, the 22-year-old has split time between playing down the middle and on the wing which expands the pool of comparable players to work from.  Either way, Pettersson is going to be staying on the top trio.
There are a couple of elements that are going to be at play in these talks.  One is that he missed the last 30 games with a wrist injury and while no one is saying he had something to prove there, he's basically working off of two years worth of NHL games played whereas many of his comparables had three full years under their belt.  It's not going to drastically affect his value but it's going to be something to keep in mind.
The other is Vancouver's cap situation.  By the time they whittle their roster down and place Micheal Ferland on LTIR, they're going to have around $15MM to spend.  That's plenty for Pettersson but there's also Quinn Hughes that needs to be signed.  They can't both get long-term deals; at least one of them is getting a bridge.  How talks go with one will play a big role in negotiations for the other.  (Both happen to be represented by CAA's Pat Brisson as well.)
Statistics
2020-21: 26 GP, 10-11-21, even, 66 PIMS, 63 shots, 18:34 ATOI
Career: 165 GP, 65-88-153 (0.93 points per game), +19, 36 PIMS, 369 shots, 18:24 ATOI
Comparables
Brayden Point (Tampa Bay, 2019) – Let's look at a couple of bridge options first.  Point was basically stuck signing one due to Tampa's cap situation, a situation that Pettersson could be in as well depending on what happens with Hughes.  Point's trajectory is different than Pettersson's in that he started slower but had a dominant platform year which wasn't an option for Pettersson but the per-game average numbers are somewhat close overall.
Platform Year Stats: 79 GP, 41-51-92, +27, 28 PIMS, 191 shots, 18:55 ATOI
Career Stats at ELC Expiration: 229 GP, 91-107-198 (0.86 points per game), +49, 66 PIMS, 530 shots, 18:38 ATOI
Contract: Three years, $20.25MM
Cap Hit Percentage: 8.28%
Current Equivalent: Same as above
Mathew Barzal (NY Islanders, 2021) – Barzal wasn't able to repeat his rookie-season performance over his second and third years but still notched at least 60 points each time, a level of production Pettersson hit in his first two years, albeit with fewer games played.  Like Point, this deal was basically forced by New York's cap situation and as it was signed earlier this year, it also stands as the most recent comparable out there.
Platform Year Stats: 68 GP, 19-41-60, +5, 44 PIMS, 171 shots, 20:03 ATOI
Career Stats at ELC Expiration: 234 GP, 59-148-207 (0.88 points per game), -1, 126 PIMS, 520 shots, 18:25 ATOI
Contract: Three years, $21MM
Cap Hit Percentage: 8.59%
Current Equivalent: Same as above
Those are basically the only two comparable players in the price range that it's going to cost on a short-term contract so let's look at a few longer-term deals.  The cost gets a lot higher with some UFA years being bought out as a result.
Jack Eichel (Buffalo, 2017) – Yes, this is a big contract but the offensive output between the two at the end of their entry-level deals is pretty close.  Eichel had the strength of a higher draft seed (second) and the fact he was basically Buffalo's franchise player from the moment he was drafted.  Those gave him a bit of a boost that Pettersson might not be able to get but the numbers – which matter the most in contract talks – arguably have Pettersson in this range.  This contract was also viewed as a reach at the time but it's still usable as a comparable.
Platform Year Stats: 67 GP, 25-39-64, -25, 32 PIMS, 246 shots, 20:09 ATOI (deal was signed pre-platform)
Career Stats at ELC Expiration: 209 GP, 73-104-177 (0.85 points per game), -54, 76 PIMS, 733 shots, 19:41 ATOI
Contract: Eight years, $80MM
Cap Hit Percentage: 13.33%
Current Equivalent: Eight years, $86.91MM ($10.864MM AAV)
Mikko Rantanen (Colorado, 2019) – The two players had very different trajectories – Rantanen started slow and then became a high-end performer while Pettersson has been more consistent – but again, the totals at the end of their respective entry-level deals are certainly comparable.  It's fair to question if Pettersson has the offensive ceiling that Rantanen does which is an argument GM Jim Benning would certainly use in talks when this comes up as a possible comparable deal.
Platform Year Stats: 74 GP, 31-56-87, +13, 54 PIMS, 193 shots, 20:51 ATOI
Career Stats at ELC Expiration: 239 GP, 80-129-209 (0.87 points per game), -19, 112 PIMS, 513 shots, 18:53 ATOI
Contract: Six years, $55.5MM
Cap Hit Percentage: 11.35%
Current Equivalent: Same as above
Mitch Marner (Toronto, 2019) – This one would certainly represent the high end of the scale but it's important to get one player on here whose point per game average at the end of his entry-level deal is at the same mark as Pettersson's.  The only ones with a higher average that were recent high picks to sign long-term deals were Auston Matthews and Connor McDavid and Pettersson certainly isn't in that range although that's impressive company to be in.  Again, Marner's offensive trajectory was higher at this point than Pettersson's is now which is why this basically represents a bar he won't clear but he could come close.
Platform Year Stats: 82 GP, 26-68-94, +22, 22 PIMS, 233 shots, 19:49 ATOI
Career Stats at ELC Expiration: 241 GP, 67-157-224 (0.93 points per game), +21, 86 PIMS, 603 shots, 17:41 ATOI
Contract: Six years, $65.408MM
Cap Hit Percentage: 13.38%
Current Equivalent: Same as above
Projected Contract
If you were looking at those last few comparables and thinking that Pettersson isn't in that range, it'd certainly be understandable.  The fact is that he hasn't played anywhere as many games as those players have thanks to the wrist injury and the last two years being shortened.  But the point per game average is there and Brisson is going to hammer that home in talks and not settle for considerably less than that.  Accordingly, a long-term deal that buys out at least a couple of UFA-eligible seasons could very well have an AAV starting with a nine.
That's why the short-term contract is the easier play here.  If they're able to work out a long-term deal with Hughes, they should still be able to afford a two-year or three-year bridge around the high $6MM/low $7MM range without creating any significant cap casualties.  Either way, while they don't necessarily have to have a deal done with Hughes beforehand, the two basically need to get their deals done pretty much around the same time.  At this point, it may make more sense for Pettersson to get the short-term deal.
Photo courtesy of USA Today Sports Images.  Contract information via CapFriendly.