The Ottawa Senators have locked up one of their young forwards, signing Drake Batherson to a six-year contract. The deal will carry an average annual value of $4.975MM, and keeps Batherson under contract through the 2026-27 season. The full breakdown is as follows:
2021-22: $2.5MM
2022-23: $3.5MM
2023-24: $5.4MM
2024-25: $5.4MM
2025-26: $6.5MM
2026-27: $6.55MM
Included in the Senators press release is a statement from general manager Pierre Dorion:
Drake represents an integral component of our future at forward. Dating to his first pro season, he has steadily progressed to the point where he is now widely recognized as a bonafide top line NHL winger. He possesses a strong ability to play at both ends of the ice, is a key powerplay contributor and someone we expect to be a prominent player for us for several years to come.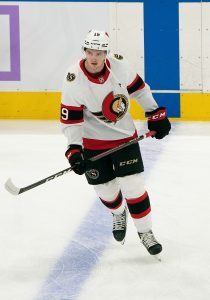 Widely recognized may not be entirely accurate as the Senators haven't generated a ton of attention over the last few years, but there's no doubt that Batherson was one of the team's brightest stars this season. The 23-year-old forward scored 17 goals and 34 points in 56 games, showing that the outstanding offensive play he has produced at the AHL level could translate to the NHL.
Originally selected in the fourth round in 2017, Batherson has done nothing but score since he pulled on a Senators sweater. In 2018-19, during his first professional season, he registered 62 points in 59 games for the Belleville Senators and earned himself 20 NHL contests. In 2019-20 he put up 54 points in 44 AHL games while playing another 23 games with Ottawa. This year it was all the NHL, as he suited up for every game and finished just two points behind Brady Tkachuk for the team lead.
For fans of junior hockey, Batherson's rise to the top of the Senators lineup won't be surprising. Despite not competing much internationally as a young player, in 2017 he made the Canadian World Junior roster after an outstanding start to his QMJHL season and ended up scoring seven goals in seven games to help take home the gold medal.
He's now getting rewarded with a healthy contract that buys out two unrestricted free agent years and keeps Batherson in Ottawa through his prime. As the team turns the corner on their rebuild and starts contending for a playoff spot, it will be young, homegrown forwards that lead the way. This deal takes him just ahead of Colin White to make Batherson the highest-paid forward on the team, though that will not likely last very long. Tkachuk still needs a contract of his own, and given the speculation about an eight-year deal, will certainly come in ahead of this $4.975MM AAV.
Normally contracts of this length come with plenty of risks, but for the Senators, who aren't in the same zipcode as the cap ceiling, it doesn't pose much of a threat. Sure, the team doesn't really have the financial power to pay players more than what they're worth, but betting on Batherson's development is a worthwhile gamble at this point. Should he continue to improve, there's a good chance he's providing surplus value for several years of the contract as he grows into his own as a top-six player in the NHL. The Senators are still under the cap floor for the time being, though Tkachuk's deal will soon fix that issue.
Photo courtesy of USA Today Sports Images