The Columbus Blue Jackets have locked up their starting goaltender, signing Elvis Merzlikins to a five-year, $27MM contract extension. The deal kicks in for the 2022-23 season and runs through 2026-27, carrying a $5.4MM cap hit. Previously, both Merzlikins and tandem mate Joonas Korpisalo were scheduled to become unrestricted free agents after the upcoming season. Aaron Portzline of The Athletic reports the full contract details:
2022-23: $5.25MM
2023-24: $6.0MM
2024-25: $6.0MM
2025-26: $5.525MM
2026-27: $4.225MM
Blue Jackets GM Jarmo Kekalainen released a statement on the deal:
Goaltending is a position of strength for our team and Elvis Merzlikins has been an important part of that over the past two seasons so we are very excited to have agreed to terms on a contract extension that will keep him in Columbus for at least the next six years. He is big, athletic and has a tremendous passion for the game and we believe he will be an integral part of our success in the coming years.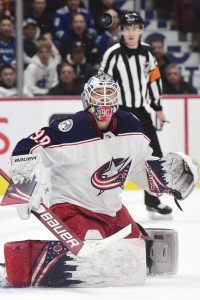 Merzlikins, 27, certainly hasn't taken the usual path to stardom in the NHL, but he nevertheless is well on his way to establishing himself as one. Selected in the third round of the 2014 draft, the Latvian netminder was playing as a teenager in Switzerland. He would remain there for another five seasons, putting up outstanding numbers while routinely suiting up for his country internationally. Time and again he would stand out as the best player on the Latvian side, keeping them in games where they were vastly outmatched and posting numbers like his .940 save percentage at the 2018 tournament.
In 2019, at the end of the 2018-19 season, he finally decided to sign with the Blue Jackets and start his North American career. He would end up playing just two games in the minor leagues, quickly showing that he was more than ready for the NHL. In that rookie season, he posted a .923 save percentage in 33 appearances, good enough to finish fifth in both Calder and Vezina Trophy voting.
Last season, those numbers dropped a bit, but Merzlikins was still able to register a .916 on a struggling Columbus team. His partner, Korpisalo, finished with an .894 and likely lost the race to be the Blue Jackets' long-term goaltending option. This new contract all but confirms that, though obviously the 27-year-old Korpisalo could also be retained at a lower price to secure the position.
While he has played the smaller half of the games the last two seasons, Merzlikins should be expected to take the lion's share this year if he can stay healthy. In fact, just a few weeks ago he told reporters that he wants to play as much as he can, even hoping to win the Vezina as a tribute to his close friend Matiss Kivlenieks, another Blue Jackets goaltender who tragically passed away earlier this summer at age 24. Merzlikins credits Kivlenieks for saving his and his pregnant wife's life, who were standing 20 feet away when a fireworks mortar struck the young netminder.
Merzlikins, the new father–his son, Knox Matiss Merzlikins was born on August 20–is now locked up long-term in Columbus and carries the 12th highest cap hit among NHL goaltenders. That rank is likely to go down as more contracts are signed, but the Blue Jackets have put their faith in him as their starter for the next several years.
Photo courtesy of USA Today Sports Images