The Winnipeg Jets have avoided arbitration with another restricted free agent, signing Andrew Copp to a one-year, $3.64MM contract according to Elliotte Friedman of Sportsnet. Copp had a hearing scheduled for August 26, which will no longer be necessary.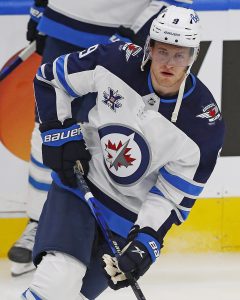 Copp, 27, will be an unrestricted free agent when the deal expires, but there wasn't much flexibility for the Jets to sign him to a longer deal. The team is pushed right up against the salary cap even with Bryan Little's $5.3MM deal moving to long-term injured reserve, meaning a multi-year deal with Copp (which would have carried a higher cap hit) would have required a subsequent move.
Instead, the team will move forward with the group they have now and revisit extension talks down the line. Copp will be eligible to sign a new contract with the team when the calendar turns to 2022. If he continues the play he showed this year, that next deal will certainly be coming with a substantial raise on $3.64MM.
Copp broke out offensively this season, scoring 15 goals and 39 points in just 55 games while playing a much bigger role for the Jets. Not only did he receive more regular powerplay time, but he also averaged 2:29 of short-handed ice time to lead all Winnipeg forwards. Overall he came in behind only Mark Scheifele, Kyle Connor, and Blake Wheeler in terms of average ice time, ahead of several more highly-paid teammates. It's hard to overstate just how important he was to the Jets forward group, serving as a sort of fix-it player for any situation.
While he may not get much fanfare for his performance, other teams surely will have noticed the player that Copp has developed into. His free agent market will be significant if he makes it there, meaning this one-year deal is certainly a risk for the Jets in terms of retaining his services past 2021-22. The team is in a win-now mode though after a disappointing second-round exit, and clearly has decided that the expensive defensive additions were worth the cap squeeze they're now experiencing.
With Copp signed, the Jets have essentially completed their offseason work, with only Johnny Kovacevic still to sign as a restricted free agent.
Photo courtesy of USA Today Sports Images