The New Jersey Devils have added another one of the top free agents available, this time signing Tomas Tatar to a two-year contract. The deal will come with an average annual value of $4.5MM, paying Tatar $3.75MM in 2021-22 and $5.25MM in 2022-23.
Tatar joins Dougie Hamilton and Jonathan Bernier as the three big veteran signings for the Devils this season, adding some experience to an incredibly young group. The 30-year-old Tatar is now the oldest forward signed to a one-way deal, nearly four years the senior of Andreas Johnsson, the second-oldest.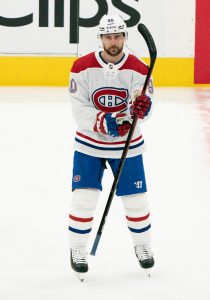 Even though he found himself on the outside of the playoff lineup in Montreal, Tatar is still a consistent offensive presence that should add a different dimension to the Devils forward group. In 50 games this season he registered 30 points and led the Canadiens in scoring during the 2019-20 season. That year he had a career-high 61 points in just 68 games, showing just how effective he can be in the right situation.
There are some doubts about how he affects the game in the defensive end, but there's no doubt that he can help the Devils score next year. That's something they had immense trouble accomplishing this year, as Pavel Zacha led the team with just 35 points. Tatar could represent an option on the wing of either Nico Hischier or Jack Hughes, giving them a little more experience and playmaking ability than they're used to.
In fact, this looks like a bit of a steal by the Devils, jumping on a player whose market is a bit depressed from recent events. Tatar has been an incredibly consistent scoring threat over his career, breaking the 20-goal mark in six straight seasons before 2020-21. While his time in Montreal had obviously run out, his next chapter in New Jersey could be even more productive, given how much ice time–both at even-strength and on the powerplay–he's likely to receive.
For the Devils, they could have paid Tatar $10MM this season and it wouldn't have made much of an impact on their cap situation. The team has plenty to work with, and though there are several RFA deals to negotiate next summer, P.K. Subban's $9MM is coming off the books. For a team with no cap issues, taking a shot on a player like Tatar is a no-brainer, given the fact they could just flip him down the road for more assets if the team is still not in a competitive window.
PuckPedia was first to report the contract details.
Photo courtesy of USA Today Sports Images