The Minnesota Wild have exactly one restricted free agent to sign, but it's a big one. Kirill Kaprizov, the reigning Calder Trophy winner and arguably the most exciting player to ever play for the franchise, currently doesn't have a contract for the 2021-22 season. With everyone else signed the team has an exact number they could work up to but it is still unclear on what kind of deal the two sides will eventually land on.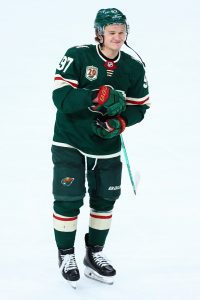 For the last several weeks, there has been speculation about whether Kaprizov would actually turn down an offer from the Wild entirely and return to the KHL. As Michael Russo of The Athletic tweets, though a contract is not imminent the Wild and Kaprizov's camp are still talking. CSKA Moscow, his old team in Russia that has been linked to Kaprizov over and over, recently stated publicly that they are not negotiating a return with the young forward.
Discussion between the Wild and their best player is obviously a positive, but it still remains to be seen if they can get Kaprizov signed long-term. The 24-year-old is scheduled to become an unrestricted free agent at the end of the 2023-24 season unless he signs a contract beyond that in the meantime. A three-year deal would take him right to the open market, while anything past that would be buying out UFA years. That would undoubtedly make the average annual value higher, though even these next few years will likely be expensive for the Wild as they try to lock up the dynamic forward.
With $13MM in cap space right now, there's plenty of room to fit in Kaprizov even if he wants to be paid among the league's elite. The Wild will have to consider the hefty cap penalties they have coming after buyouts of Ryan Suter and Zach Parise, but also have several big contracts coming off the books after this season. It appears as though things are headed in the right direction, but with no pressure points until training camp opens next month, there's no real rush in Minnesota.
Photo courtesy of USA Today Sports Images