It was getting close to the wire, but the Detroit Red Wings and Jakub Vrana won't need their arbitration hearing tomorrow after all. Elliotte Friedman of Sportsnet reports that the two sides have agreed upon a three-year contract, avoiding the rest of the arbitration process. The deal will carry an average annual value of $5.25MM and CapFriendly reports the deal breaks down as follows:
2021-22: $4.75MM
2022-23: $5.25MM
2023-24: $5.75MM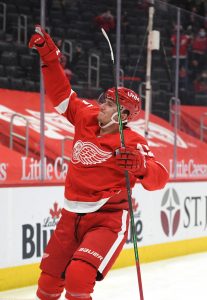 Vrana had filed for $5.7MM. while the Red Wings had countered with $3.65MM, but neither one of those would have represented a three-year contract. With this new deal, Vrana will actually be giving up one year of unrestricted free agency, something that can't be awarded through arbitration.
For $5.25MM, he gets a healthy raise from the $3.35MM cap hit he carried over the last two seasons. He will tie Frans Nielsen as the team's second-highest-paid forward, just below Dylan Larkin's $6.1MM. That represents his place in the lineup, as Vrana is arguably the team's most exciting forward heading into this season after lighting it up following a midseason trade. Acquired from the Washington Capitals as part of a package for Anthony Mantha, Vrana scored eight goals and 11 points in 11 games down the stretch.
That kind of production hasn't been common in Detroit recently, but it actually shouldn't be all that surprising from the 25-year-old Czech.  In the 2019-20 season, he had 25 goals and 52 points in 69 games for the Capitals. His playoff performance left something to be desired though, which likely factored into the decision to move him for a bigger Mantha. Still, it wouldn't be surprising to see Vrana outproduce Mantha during the regular season at least, and he now comes in at a cheaper price tag. The big forward in Washington is on a four-year deal that carries a $5.7MM cap hit.
With the Red Wings in the early stages of a rebuild still, it will be interesting to see if Vrana even plays out this deal in Detroit. Though he's not old by any means, he is quite a few years older than the rest of the talent that GM Steve Yzerman is collecting. There's certainly no guarantee that the Red Wings will be competitive by the time Vrana's entering the final year of this deal, meaning he could become a rental down the road. For now, he'll be getting a huge opportunity in the team's top-six to play big minutes and show what his offensive ceiling really is.
Now that Vrana has settled, Neal Pionk is next on the arbitration list. His hearing is scheduled for Friday.
Photo courtesy of USA Today Sports Images