Early in his career, it looked like Ryan Donato was going to be a player who could be a capable secondary scorer for Boston.  However, his production has stagnated which has resulted in a couple of trades already with San Jose opting to non-tender him over issuing a $2.15MM qualifying offer earlier this summer, sending him to the open market.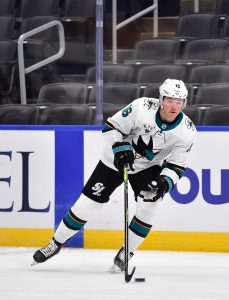 While every player still unsigned has their flaws, it is a little surprising that Donato old remains unsigned.  His 20 points are the most of any remaining UFA that doesn't already have ties to the Islanders as they look to see how long they can go without officially announcing any signings and at 25, he's the youngest regular NHL player on the open market.
Last season was a tough one for Donato.  Joining the Sharks seemed like a good fit for him as he'd have a chance to play a bit of a bigger role than he did with Minnesota.  That did indeed happen but the playing time only increased marginally as he still found himself on the fourth line at times.  The end result was just six goals which is likely why they opted to try someone else in his spot instead.
Still, while there aren't many players with upside still unsigned, there's a case to be made that Donato is one of them.  He has reached at least 20 points in his three full professional seasons and is only a year removed from a 14-goal campaign with the Wild.  It's a limited track record for sure but there's definitely a case for someone to bring him in.
Stats
2020-21: 50 GP, 6-14-20, -10 rating, 10 PIMS, 104 shots, 47.6 CF%, 12:37 ATOI
Career: 180 GP, 35-42-77, -18 rating, 30 PIMS, 362 shots, 50.9 CF%, 12:24 ATOI
Potential Suitors
Unlike some veteran players who are better fits on playoff-bound teams, no such restriction exists for Donato.  He could serve as a depth piece for those teams or catch on with a weaker team that has a chance to give him a bigger role and allow him to restore some value.  Donato is still controllable through 2023 which puts him in a spot like Andreas Athanasiou and Anthony Duclair were a year ago, non-tenders that had another year of control remaining; both of them eventually signed a second deal with their teams.
In the East, a team like Buffalo or Detroit that is still rebuilding could be a fit in terms of hoping that he pans out into a potentially longer-term fit.  Among teams with playoff aspirations, Toronto could use him similar to what they wanted to do with Jimmy Vesey and Alex Galchenyuk last season as an offensive piece that they hope to get a bit of surplus value out of for a cost that's close to the minimum.
Out West, Anaheim and Nashville are teams that haven't exactly bolstered their offenses and while Donato isn't going to make a big difference, any small upgrade would be helpful while both teams could benefit if he does well enough to earn a qualifying offer next summer.  Seattle's forward group could use a bit more offensive upside in their bottom six while Edmonton could use Donato as a low-cost replacement for Dominik Kahun, a player who was brought in to try and improve their offensive depth last fall.
Projected Contract
Donato's non-tender came after the voting for our Top 50 UFA list although he may very well have made it on there had his release come earlier.  It's hard to see any viable multi-year offers coming his way so a one-year contract is likely all he'll wind up with.  Something around the $1MM mark would make him fit on the cap for many teams although if he wants to land with a contender, Donato may have to take a little less than that even.  While there are questions regarding many of the remaining free agents as to whether or not they'll make it on a roster for next season, that shouldn't be the case with Donato.  His stock has certainly dropped but it's only a matter of time before someone takes a chance on Donato.
Photo courtesy of USA Today Sports Images.