In his prime, Jason Demers was a capable second pairing defenseman that was reliable in his own end and could contribute a little bit offensively.  Those days have come and gone but the veteran can still make a case to be brought in as a serviceable option on the third pairing.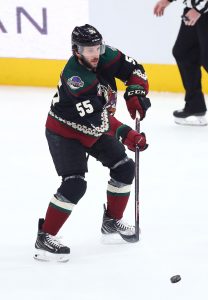 Unfortunately, the 33-year-old will be relying on his track record over his career to make that claim, not his performance last season.  There's no sugar coating it – 2020-21 wasn't pretty.  Demers slipped down the depth chart to the third pairing, averaged his lowest ice time in nearly a decade, and eventually found himself scratched with some frequency down the stretch with Arizona well out of playoff contention.
But while it's certainly reasonable to consider that this is a sign of things to come, Demers was in a top-four role as recently as 2019-20 where he was a fixture on Arizona's penalty kill and logging more than 20 minutes per game.  It's unlikely he'll get back to that form but players don't often drop from being a top-four blueliner to borderline unplayable quite that quickly.  A small bounce-back season is certainly doable.
What also helps Demers is that he's a right-shot defender which is a position of some scarcity around the league and certainly among the remaining rearguards on the open market.  While handedness isn't as big of a factor for some coaches as it is for others, being a righty should open up some extra opportunities.
Stats
2020-21: 41 GP, 0-4-4, -4 rating, 26 PIMS, 44 shots, 49.6 CF%, 17:14 ATOI
Career: 699 GP, 45-169-214, +31 rating, 407 PIMS, 884 shots, 51.7 CF%, 19:10 ATOI
Potential Suitors
Who needs low-cost roster depth?  Plenty of teams will be searching for an extra low-cost defender in the weeks to come to give them some extra insurance heading into training camp while those with weaker depth on the right side could have more interest in someone like Demers.
In the East, Demers would serve as an upgrade in Pittsburgh on Chad Ruhwedel or Mark Friedman, veterans who have primarily been AHL or reserve options in recent years.  Montreal's third right-shot blueliner is Chris Wideman, a veteran who hasn't seen NHL action the last two seasons so Demers would at least serve as some insurance on that front.  Demers would also be an upgrade in Columbus who could view Demers as someone that could play early on to allow a younger player like Andrew Peeke or Gabriel Carlsson to spend a bit more time in the minors before flipping Demers midseason.
Out West, the Blues could stand to add some veteran depth with the departures of Vince Dunn and Carl Gunnarsson while Robert Bortuzzo, a righty like Demers, has typically been used in a platoon role over playing in every game.  Calgary's right side is thin behind Rasmus Andersson and Christopher Tanev while Chicago could use someone like Demers if they feel Ian Mitchell is better served playing top minutes in Rockford over the third pairing with the Blackhawks.
Projected Contract
Demers' tough season put him on the outside looking in for our Top 50 UFA list and his value has certainly dropped as well.  At this point, it wouldn't be surprising if he had some PTO offers on the table but he still has some time to try to land a guaranteed deal.  A one-year deal at or near the league minimum of $750K may be all he can land at this point and if last season was just an aberration and not a sign of a quick decline, whoever gets him could wind up with a bit of a bargain.
Photo courtesy of USA Today Sports Images.