Another arbitration hearing can be canceled, as Nikita Zadorov has reached a one-year contract with the Calgary Flames. The deal will carry a cap hit of $3.75MM and takes the defenseman right to unrestricted free agency next summer. Zadorov had a hearing set for August 26 which will no longer be required.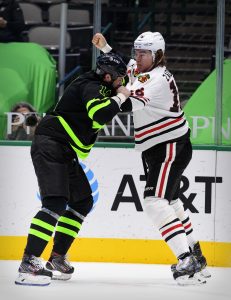 It's another fresh start for Zadorov in Calgary this season after spending just a single year with the Chicago Blackhawks. Originally drafted by the Buffalo Sabres, 16th overall in 2013, he's onto his fourth NHL team before he even turns 27. There's been a theme to Zadorov's entire career. The 6'6″ defenseman is an incredible physical presence on the rink, one of the most dangerous open-ice hitters in the league, but simply has never been able to find enough consistency in his own end. To that end, none of his teams have ever trusted him enough to play him 20 minutes a night despite the obvious raw talent he has.
In 55 games for the Blackhawks, Zadorov recorded eight points and 190 hits while averaging 19 minutes a night. He played a good bit on the penalty kill and had heavy defensive deployment, but once again didn't do all that well in either area. When the Blackhawks left him unprotected in the expansion draft, the Seattle Kraken essentially forfeited their pick instead of taking him, selected a minor league UFA that has since gone overseas. The Flames sent a third-round pick to the Blackhawks to see if they could do what other teams haven't been able to–turn Zadorov into a top-four defenseman.
The thing is, Calgary doesn't have a lot of other options ahead of him. Zadorov should get a great opportunity for the Flames now that he's signed, for only slightly less than the team's top three players. Now that Mark Giordano is gone, the depth chart in Calgary is relatively thin. Committing $3.75MM to Zadorov means that he's obviously a big part of their plans this season; whether he can handle it is still to be seen.
Photo courtesy of USA Today Sports Images