The Edmonton Oilers made a huge commitment to Darnell Nurse yesterday, signing the 26-year-old defenseman to an eight-year contract extension. The $74MM contract doesn't even kick in until the 2022-23 season, meaning it will keep him employed until 2030. The $9.25MM cap hit is currently the fifth-highest among NHL defensemen, but the average annual value isn't the only thing to negotiate when it comes to career-defining contracts.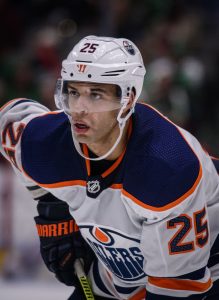 The contract also includes a full no-movement clause through the 2026-27 season, and a modified no-trade clause through the final three years. Nurse will be able to submit a list of ten teams he would accept a trade to during those final few years, but that's actually not the only protection built into the deal. For that, the full salary breakdown is needed (via CapFriendly):
2022-23: $12.0MM salary
2023-24: $10.4MM salary
2024-25: $12.0MM salary
2025-26: $10.0MM salary
2026-27: $2.0MM salary + $6.0MM signing bonus
2027-28: $1.2MM salary + $6.0MM signing bonus
2028-29: $1.2MM salary + $6.0MM signing bonus
2029-30: $1.2MM salary + $6.0MM signing bonus
The combination of a contract being front-loaded and then filled with signing bonuses creates another sort of protection for Nurse. After the halfway point, it essentially can't be bought out. The cap savings would be negligible at that point, meaning the defenseman will almost certainly see this new deal play out regardless of how he performs down the line.
For instance, if the team tried to buy the deal out in June 2026, they would still face cap hits of $7.72MM in 2026-27 and $8.52MM in each of the next three years. As it gets closer to the end of the term, the cap savings would be even less. That means if things go sour, Edmonton would need to pull the trigger early to get any real relief, like the Minnesota Wild recently did with Zach Parise and Ryan Suter, but that would still result in some painful cap penalties without a player to show for it.
This isn't the first time the league has seen contracts structured in a way to prevent buyouts. In the summer of 2016, just a few days after free agency opened, PHR published a piece examining how Loui Eriksson's deal (and several others signed that day) was essentially buyout-proof. As we enter the final season of that six-year, $36MM deal, Eriksson is still technically active but was scratched for basically the entire 2020-21 campaign. He played just seven games for the Vancouver Canucks this year and has just 14 points over the past two seasons. Despite his obvious struggles, there wasn't a way to clear his contract off the books–at least not without trading him.
Edmonton could now face that same situation if Nurse's play declines a few years from now. It's a gamble, an especially risky one to take a year out from Nurse reaching unrestricted free agency. In 2022-23, the Oilers' defenseman will be earning the same amount of money as Connor McDavid, whose eight-year, $100MM contract was only slightly front-loaded. The team is making a huge investment in the short term, hoping to find some success in the postseason.